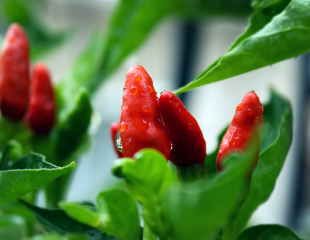 Growing Chillies key Points
Warmth is key at all growing stages keep warm.
Minimum temperatures to germinate from seed is at least 25C.
Water sparingly.
Pinch out main stem and early shoots to make the plant bushier.
Grow under glass or indoors unless in a sheltered warm garden.
Ideal container plants.
Chillies are relatively easy to grow their main requirement being warmth, which is key to growing chillies, particularly at the early stages. Chillies originate from the tropics which is why they need warm conditions.
Chillies are ideal to grow in containers and unless you want to eat Chillies every day, a couple of plants will keep you well supplied. They like sun and warmth and in sheltered gardens, especially in the south of the country, Chillies will crop outside but elsewhere they are best grown under glass. Early in the year it will be too cold in an unheated greenhouse or poly tunnel so if starting from seed or as a young plant Chillies are best kept indoors until the later in the summer and definitely do not plant out until the risk of frost has passed.
You can also grow Chillies indoors throughout the season and they will crop well and look attractive.
Once the Chilli plant is mature and starting to flower, it will benefit from a potash feed. Also, when the plant first comes into flower pinch out those early flowers so that the Chilli plant will throw out more shoots, bush and produce a better crop. Chillies are best grown in a dry spot, and if grown in containers, keep on the dry side. Towards the end of the season you can bring the Chilli plants back inside to keep them growing and fruiting. If you are growing Chillies indoors, you will need to open windows or doors to allow the pollinating insects in.
If the leaves of the Chilli plant turn yellow, or drop off chances are the plant is being overwatered, only water sparingly.
Chillies germinate easily from seed if you want to grow your favourite variety. Chillies need quite a long growing season so if you are growing them from seed you will need to start germination early, and even earlier in the North of England (because of the shorter growing season,) from late January/early February onwards, provided you have somewhere warm to keep the plants. Equally, it is often is easier to buy a ready plant from a garden centre/online and get off to a good start with a reasonable size plant in a warm place.
There is a gardening debate about whether you can over winter chilli plants. It is true to say, especially in northern climates, Chillies are best treated as an annual. Even if you persuade the Chilli plant through the winter the ensuing plant will be less vigorous, if not feeble, and you may not get much by way of fruit.
Other gardeners suggest that you can over winter the plant and get crops in successive years will be good and the plant will fruit well for about 4 or 5 years. To overwinter a chilli plant, at end of the growing cut back to stem and few branches and keep warm with occasional food and water.
Equally, for the cost of a chilli plant you can compost it and buy another each year they are still great value cropping from one small chilli plant maybe 40+ chillies
The RHS undertook a trial of chillies for those most to look for those most suitable to grow in containers, suggestions are: 'Riot' a longer thin chilli, moderately hot; 'Krakatoa' a thicker cone shaped red chilli hot; 'Spike' a thin, very hot chilli. These are all short compact chillies suitable for container growing in a warm spot bearing in mind chillies are H1 hardy which is 5-10 degrees.
Chillies are ideal for growing in containers, on windowsills and balconies and make a great veg plant where space is limited. There is a range of vegetables which can be grown in containers, for more information about growing vegetables in containers

Chillies are an easy to grow green wheelbarrow plant
Choosing which Chillies to grow is very much down to personal taste, mainly the heat of the Chilli. The taste and heat range from mild to mouth shatteringly hot. All the on line sellers and garden centres have Chilli plants and seeds on sale of all different types and heat just pick what suits you. You may want to consider growing a self pollinating variety if you are going to grow it inside all summer, and to aid fruit setting give the plant a shake from time to time. Small varieties are most suited to containers and hanging baskets