Climbing plants give height and structure to a garden and make a spectacular feature in their own right, such as Wisteria (image top left). Many climbing plants are vigorous which means although they are easy to grow, it is important to check the eventual size of the plant against the space available.
As a group, climbing plants come in all shapes and sizes, perennial, annual, evergreen and deciduous. The smaller climbing plants, such as compact clematis, and annual sweet peas look just great in the border climbing up an obelisk. A natural way of planting into a border is to train climbing plants to scramble and wind its way around a border.
Many climbing plants are vigorous and ruthless in grabbing, scaling around, clinging, flattening and basically growing over anything in their way. If you let the plant grow through a border, as opposed to being tied into an obelisk or a structure, you may need to check its growth as there is a tendency to swamp everything around. It can stunt the growth of plants around by clinging and sometimes pulling more fragile plants down.
When growing annuals you can make a temporary support out of pruning off cuts which can make an attractive natural arrangement, as spotted here at one of the RHS gardens.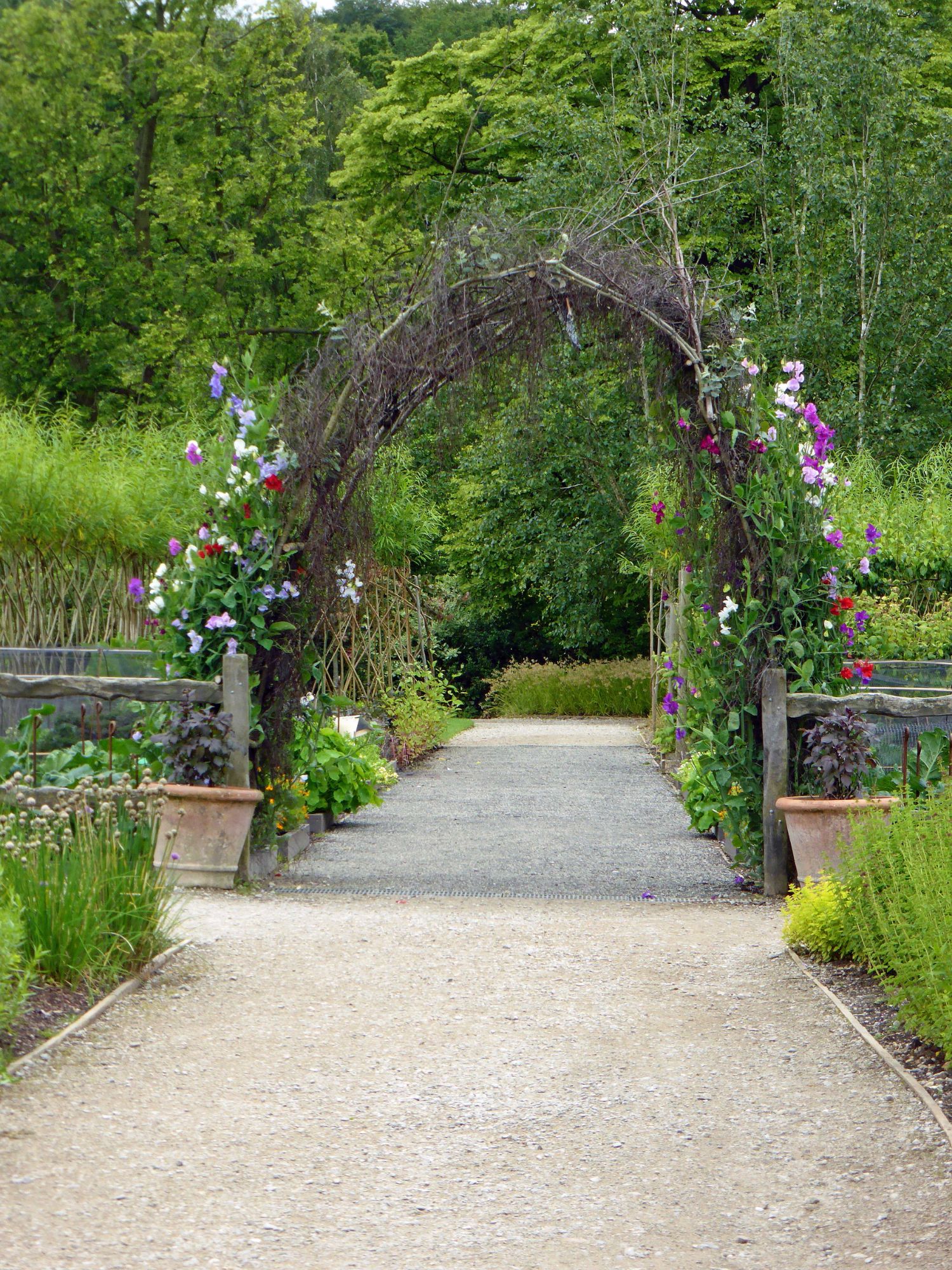 The range of climbing plants is varied, some are easy to grow such as Passion flower, (image top center) which looks exotic, but is in fact easy to grow suitable for most gardens with little maintenance,
Other varieties of climbing plants such as the popular Clematis are more difficult to grow requiring time, attention and pruning. Although one of the most popular flowering plants, Clematis can be tricky to grow although there are hundreds of different species to choose from flowering all through the year. Some varieties of Clematis are easier to grow than others, generally those requiring little or no pruning, such as the Montana group.
Don't be put off growing clematis they are spectacular climbing plants and help is at hand with more information about Clematis and pruning made easy and videos on planting and pruning Clematis.
In addition, there are some great annual climbing plants if you are a keen gardener, such as Lathyrus (Sweet Pea). A very lovely climbing plant but a real thug is Fallopia, not for nothing known as the "mile a minute plant".
The best climbers are illustrated below with links to pages with growing information.