Evergreen Shrubs
Many evergreen shrubs are easy to grow and give form and structure to the garden. Because evergreens are always in leaf this adds garden interest all the year round with not too much hard work.
As with all shrubs, there is a great variation in size even within the same group of shrubs, such as the Rhododendron group, so it is helpful to check the overall size as shrubs can grow large and overgrow the border crowding out other plants. Many evergreens have excellent foliage such as Euonymus, Escallonia and Camellia, others are grown for their flowers such as the stunning blue of the Ceanothus. The lovely Choisya has it all, attractive foliage with lovely creamy white flowers which are sweetly scented making it a must for any garden.
Most evergreen shrubs are low maintenance and easy to grow which is why they are so popular. Some shrubs are totally evergreen but others such as the Hypericum may vary depending on growing conditions and be deciduous in colder areas.Many of the familiar evergreen shrubs also have deciduous varieties which have been included on some pages for easy reference.
All the evergreen shrubs below are easy to grow in the right place but some are less hardy. The Ceanothus illustrated is lovely but only ** hardy and so not suitable for all gardens, but ideal for coastal and sheltered gardens. Below are images and links for easy to grow Evergreen Shrubs and Bushes with advice on what to pick for your garden.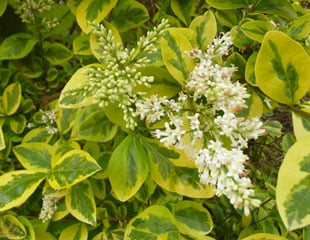 Although Euonymus does have some flowers as in the image, it is really grown for it's bright foliage which can really lift a gloomy corner of the garden. This illustrated is E. fortunei 'Emerald n Gold' Very easy to grow and maintenance free.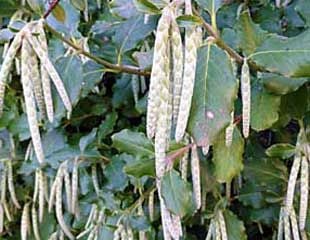 Another Evergreen Shrub not grown for any flowers is Garrya elliptica common name Silk Tassel bush which has lovely long tassels in winter. It is easy to grown and whilst described as not fully hardy I have seen it growing in cold areas of UK as long as it is not waterlogged.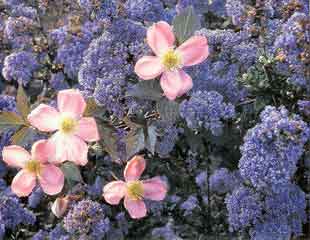 Ceanothus produces lovely soft blue flowers and is teamed up here with Clematis montana an ideal combination both flowering late spring. Ceanothus is slightly tender and dislikes cold drying winds, more advice and growing tips.

Escallonia illustrated here and top left is a lovely evergreen, glossy leaves and attractive flowers in the late spring early summer. It is suitable for hedging the only drawback being it is slightly tender and needs a sheltered spot.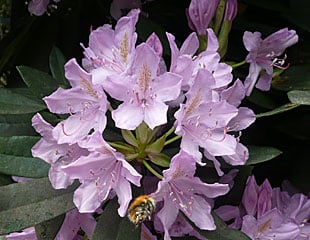 There are so many Rhododendrons to choose from, from small Azalea to large Rhododendrons almost small trees. They are very easy to grow only requiring acid soil and many have wonderfully bright strongly coloured flowers.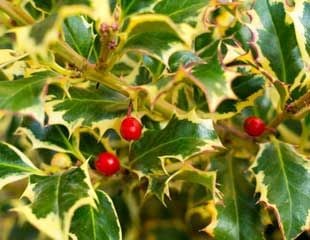 Ilex aquifolium , common name Holly is another bright evergreen with the additional benefit of berries. It is slow growing and varieties need to be picked carefully to ensure berries are produced for tips and advise.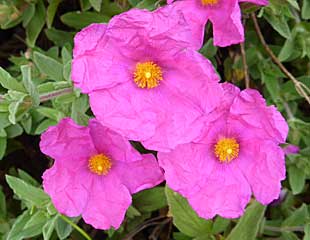 Cistus common name Rock Rose is a small to medium sizes shrub evergreen in most areas but may be semi evergreen in very cold spots. It has a preference for sunny dry growing conditions and rewards with many flowers over a long period in the summer.