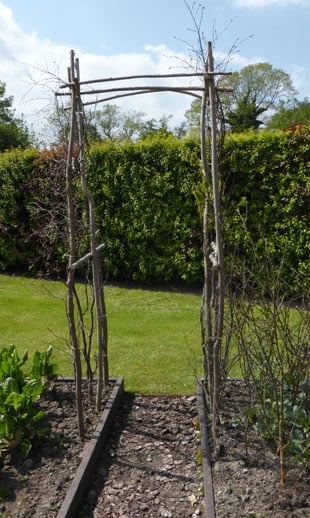 There are lots of different plants supports in all shapes and sizes which can be purchased from garden centres, but how much better to get them for free. Prunings, off cuts and twigs from cutting back of shrubs make great plant supports. In the garden, all sorts of supports are needed. The delicate small plants may just need light weight supports, the beans in the veg plot need a sturdy arrangement to take the weight of the plants later in the year with a heavy crop.
In the first image left are cuttings from a conifer which make love wand shaped supports. Next are two bundles, one of bamboo the other Cornus, which make good light support and very pretty too. The third image far right are really sturdy cuttings from trees and small saplings which are destined for the veg plot.
All cuttings are useful and you can also combine them to make a garden structure as in the image which is a rustic arch and ideal for Sweet Peas and climbers.
Using pruning and cuttings provides plant supports for free which are natural looking and attractive. They are best used for herbaceous and perennial plants. For some of the heavier climbers it maybe more practical to use permanent supports.
To preserve the plant supports they are best stored over winter in the greenhouse as the winter wet may cause them to rot.
On a practical gardening note, always put the plant supports and stakes in early. I often get caught out leaving it a bit late and then it can be hard to feed the plant into the support without damaging it. This can be particularly so with a plant such as a Peony which has individual, and very beautiful, flower heads and if the stem or flower head is damaged there will be no later flower replacements as it flowers only once.