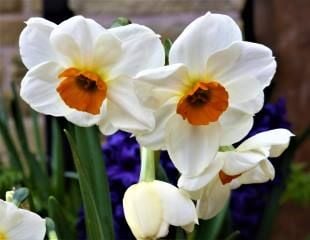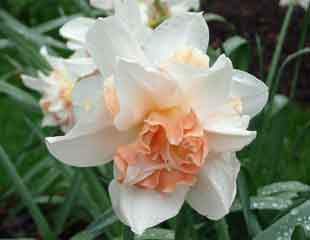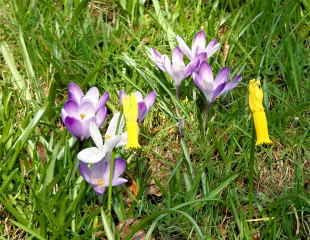 We may think of Daffodils as large yellow trumpets of colour but there are so many more daffodils to choose from, around 13,000+ varieties in existence. Above are three quite different daffodils, the N. cyclamineus is even smaller than tete a tete.
Some of the most rewarding Daffodils are the scented varieties such as Narcissus 'Bridal Crown', Narcissus 'Geranium' and a long-standing popular variety Narcissus 'Cheerfulness.
If you are thinking of planting some more Daffodils, whether in the ground or tubs it is well worth looking at the specialist on line suppliers to search out some interesting shapes and scented varieties.
Planting Daffodils is simple but even so a common question and interest is why spring bulbs do not flower.
There can be several reasons why Daffodils do not flower, the most common is planting them too shallow.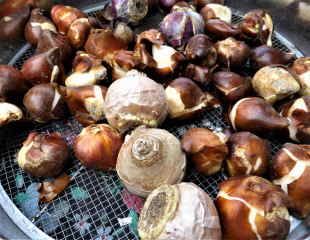 Bulbs come in all sizes, from tiny snowdrop bulbs to the large Alliums.
Planting too shallow can cause bulbs, particularly Daffodils, to come up blind. A good rule of thumb when planting bulbs is always to plant them 3x the depth of the bulb. Looking at the bulbs in the image, the large white ones are Hyacinth and all around are Daffodils.
It is clear from this that Hyacinths will need to be planted deeper than Daffodil bulbs, and the smaller Daffodils bulbs, such as Tete at Tete, not so deep. If you are planting a few, it is handy to measure on a bamboo cane the 3x depth, and then each time you dig a hole put the cane in to check the depth and then plant.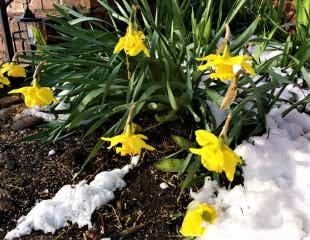 How you treat Daffodils after flowering is also important for next year's flowers.
It is safe to dead head Daffodils, taking the top, just removing the spent flower and no more. It is important not to tie up or restrict the fading leaves, which will increase the risk of the Daffodils coming up blind next year. The leaves help to provide food to the bulb for next year.
If Daffodils are grown in a lawn, avoid mowing for about 6 weeks. This is also the time to feed Daffodils, a balanced liquid feed every couple of weeks until the foliage has died down.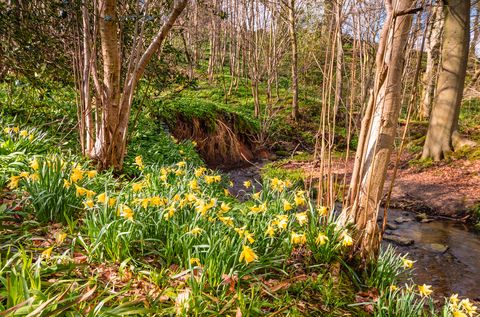 Our native Daffodil is Narcissus pseudonarcissus, which at one time grew freely in woodland but is now much less common. It is smaller, with pale leaves and a darker yellow trumpet. It can still be found growing in areas of South Devon, the Black Mountains in Wales, the Lake District in Cumbria, and along the Gloucestershire-Herefordshire borders. This image is of Daffodils in a woodland setting, possibly wild Daffodils growing in Letah Wood a rural ancient woodland through which Letah Burn runs, near Hexham in Northumberland.