Agapanthus are great showy, garden flowers with exotic looking flowers in striking blue, mauve, white and pink. Agapanthus are perennials, some are evergreen others deciduous. Agapanthus range in height from 10 to 150cm. Growing Agapanthus is easy, getting them to flower is more tricky. The ideal growing conditions are full sun with fertile, moist but well-drained soil and in a sheltered garden.
Agapanthus flagged amber wheelbarrow being medium difficulty to grow. It is important to select the correct variety for your garden and then to plant in the right place in your garden. Some varieties of Agapanthus will tolerate more cold and frost than others. It can take a little time to get Agapanthus to flower, although once established Agapanthus they will often flower for some years with no real attention.
Like so many of our garden favourites, when growing Agapanthus, the trick is to get the right plant in the right place and this is very much the case with Agapanthus. Agapanthus vary in hardiness. As a rule of thumb, the deciduous varieties are more hardy than the evergreen varieties, and the less hardy types will need a winter mulch and frost protection.
When growing Agapanthus outside, if your garden is not sheltered, you will need to select a fully hardy variety, such as A. Blue giant, A. Midnight blue, A. Lilliput (as you may expect a short variety up to 10cms) A. Snowy Owl with white flowers. Check when you buy, the label or website will state if the variety is fully frost hardy. Selecting a hardy variety is essential unless your garden is sheltered and for an explanation of what is meant by hardy follow this link
If your garden is exposed, wet, and/or prone to frost, or you wish to grow a more tender variety, Agapanthus are best grown in pots and moved into an unheated conservatory or greenhouse for the winter. In colder areas Agapanthus will need shelter and winter protection.
If you live in Cornwall, or the Scilly Isles you are lucky, and no doubt laughing up your sleeve at this advise which you can ignore. In these areas Agapanthus grow abundantly, flowering freely in the milder conditions.

Agapanthus are an amber wheelbarrow plant as they can be tricky to get them to flower and some varieties are not fully hardy and so may need winter protection
You can plant Agapanthus at any time during the growing season, ideally in spring. Plant reasonably deep to protect the plant from frost. If planting Agapanthus in a container leave room for a winter mulch to protect the plant. All Agapanthus both deciduous and evergreen varieties will survive a winter best planted in soil which is not too wet. If waterlogged the plants will suffer. For this reason, if your garden is on the wet side it may be better to plant Agapanthus in containers. Given that Agapanthus do better with some root restriction, if planting into a container, select a container which is not too large in relation to the side of the plant. If your Agapanthus stops flowering, re pot it.
The taller varieites of Agapanthus look good in containers and sit well above the container adding style to a patio or entrance, and are an ideal balcony plant. Agapanthus will flower well without feeding, it is more about the right growing conditions. That said, in many areas of the UK growing conditions are not always ideal and a feed (high potash to aid flowering, such as Tomato feed,) can only help things along. This is especially the case for container grown plants.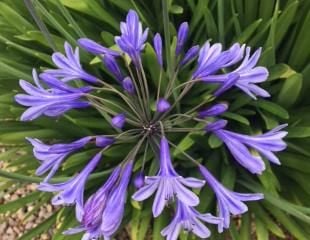 There is plenty of garden advice to suggest that Agapanthus flower best when their roots are constricted. All the Agapanthus I have are growing are in containers and producing flowers. This is because my garden conditions are not ideal. Previously I had Agapanthus growing the borders where they failed to flower, struggling with the cold exposure and wet. I dug them up and replanted in containers which has been a great improvement and they have flowered.
The ideal growing condition for Agapanthus is a sheltered spot in full sun with good soil, which is not too dry and drains well. Even though Agapanthus like moisture retentive soil, perversely they will establish well in containers. If grown permanently in containers, it is advisable to divide and replant in fresh compost regularly and how often is governed by the plant's flowering. If the plant is flowering, and all is well best to leave alone, if it fails to flower re pot. All Agapanthus like sun as they originate from warm climates in South Africa.
Agapanthus are very rewarding with their striking flowers and foliage, and easier to grow in milder areas of the country where they can be left undisturbed in the garden and will reward with many flowers year after year. Even in more exposed areas, by choosing a hardier variety and either mulching or growing in a container, Agapanthus can be grown all over the UK.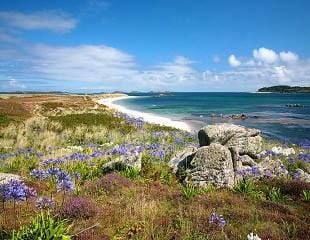 Agapanthus do well in coastal gardens, being tolerant of salty winds, and positively thrive in Cornwall and Scilly Isles, where they seem to grow almost wild.
I took the image on the left at Tresco in the Scilly Isles, on route to Tresco Abbey Garden. This shows Agapanthus growing abundantly and very well all along the shoreline. They are growing wild with no attention in ideal conditions. Well-drained soil, a mild climate and plenty of sun. Agapanthus grow everywhere on the Scilly Isles, as in Cornwall. It is all about "right plant in the right place" and this shows that when planted in the right place Agapanthus do not need feeding or any attention to grow.
Conversely, in a wet exposed garden, it is possible to grow Agapanthus but almost certainly they will need to be in containers, and have winter protection.
When selecting an Agapanthus for the garden, a good starting point is to check out those with the RHS AGM is a good starting point.

In 2014 the RHS ran a 4 year trial of Agapanthus to assess the best assessed on length of flowering, colour, balance of flowers, quality of foliage and stems.
The most hardy evergreens (H4) awarded the RHS garden merit are A. 'Blue Ice' as the name suggests a pale blue variety 85 cm, 'Megan's Mauve' a lavender variety110cm, 'Snow Cloud' a beautiful white variety. Many more deciduous plants were awarded the AGM including 'Alan Street' described as one of the best in the trial a dark purple blue 115cm, 'Silver Moon' as the name suggests a white variety 60cm and one I really love, 'Twister' illustrated above centre. A semi deciduous variety with bicoloured blue and white flowers it is very striking 65cm.
Other varieties of relatively hardy Agapanthus include A.'Ben Hope' dark blue flowers height up to 1.2m; A. 'Blue Giant' rich blue flowers similar height; and A. ' Blue Moon' light blue flowers growing up to 60cms. There is a hardier form of white Agapanthus ' Bressingham White' which has pure white flowers growing up to 90cms.
What to do if Agapanthus will not flower.
In some areas of the UK, growing Agapanthus is more of a challenge, and tricky to get them to flower each year. The Agapanthus I had growing in the ground just sulked and added very little to the border. Reluctant to throw away being such expensive plants, I dug them up and potted into large containers and two years later the flowers finally put in an appearance. It seems with Agapanthus that if they are not flowering in pots to replant in the ground, and vice versa. It seems to work, and not to molly coddle or overfeed Agapanthus least is best.
Agapanthus look very effective in containers. If you want Agapanthus flowers in the border, you can always place the pots in the borders by digging out a space and sinking the container into the bed. I have to do this as Agapanthus will not flower in my soil conditions but many of the surrounding plants hide the containers. I have seen this done with both Agapanthus and Dahlias to good affect and grown this way the Agapanthus are easier to lift to store/overwinter elsewhere.
Agapanthus are one of our showiest summer flowering plants, but perhaps not the easiest to grow. There are some green wheelbarrow plants, i.e easy to grow plants, check out summer flowering plants and ideas for summer planting.
How to look after Agapanthus in the winter
Looking after Agapanthus in the winter depends on both the variety you are growing, and your garden aspect. Some Agapanthus are described as hardy but in more northern or exposed gardens Agapanthus protection in winter is still required. It is necessary to check the precise variety you are growing; as a general rule the deciduous varieties are more hardy than the evergreen types. The RHS new hardy ratings take into account other aspects of hardiness apart from a simple temperature reading, as the aspect is also important. Plants may be described as hardy but if the ground is wet, (and cold) they may not survive the winter.
A winter mulch of around 15-20 cm is ideal and I find strulch very good. As the evergreen varieties are more tender, they may need a fleece during the worst of the winter cold. If your garden is exposed it is best to move Agapanthus to a more sheltered spot or into the greenhouse for the winter which means growing in containers unless you like digging and can face digging them up at the end of the season to overwinter in the greenhouse.
In all sheltered areas the more hardy varieties of Agapanthus will be fine with a mulch. The Agapanthus in the images above spend winter in the greenhouse and flower well.
One of the main causes of Agapanthus failing to flower is too much shade Agapanthus are sun loving..