Growing vegetables tips
Growing Vegetables Tips
Allotment and vegetable plots are now very popular and growing your own veg has become fashionable and it's fun. The magazines and TV make it look so easy, easy peasy, but with the difficult summers of recent years we gardeners need all the help we can get.
Below are some general growing vegetable tips and links to pages dedicated to growing vegetables full of helpful tips and advice to help you get the best crop.
Consider how much time, space and energy you have for growing vegetables - use the colour coding as a guide - the easiest to grow vegetables are marked and colour coded green which is a good starting point; these vegetables give more reward for less time for example peas, runner beans, Potatoes. If growing vegetables for a successive year check out Crop rotation
All vegetables are hungry feeders and thrive on good soil with plenty of organic matter muck and compost. If you don't have time to dig, and who does, an alternative gardening tip is to spread compost on the veg plot when you get round to it - late autumn early winter and let the worms do the digging. Whatever you are going to plant, prepare your plot carefully to ensure the soil is enriched, well drained and your plot is in a sunny position.
If you are in the North of England or an exposed site, accept that some vegetables need a very sheltered spot or glass cover, such as tomatoes, French beans, melons, Sweetcorn and squashes and a decent crop may prove very difficult, if not impossible, in a poor summer. There is a difference of around 7 weeks between spring in the far South and the North. There is also difference in temperature which the books and seed packets do not always make clear.
If you plant out early, March, & April you need to be ready to protect either with cloches or fleece to ward off the frosts. If the summer is poor there may a correspondingly poor crop.
If you haven't the time for seeds and propagation, buy plug vegetable plants, which are still good value. Bear in mind some seeds are easier to germinate, generally larger seeds are easier.
An easy starting point if you want to try germinating from seed are peas and beans, & courgettes.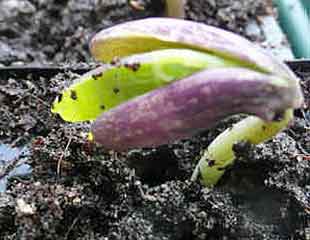 Salad crops need slug protection click here for detailed gardening tips on how to beat the slugs. Slugs love lettuce more than you do. The best protection if you can be bothered is to water in nematodes just as the soil is warming up but there are many other ways follow the link for slug beating ideas but be prepared to tackle slugs or they will have your lettuce.
To avoid vegetable gluts, it is best to sow or plant in succession, the usual gardening tip is sow every fortnight. Plants seeded at the same time, or planted at the same time will produce fruit at the same time which can create a glut. To avoid this plant /sow a quantity of the veg and then a fortnight later repeat and continue doing through the summer season until the end date for planting, often around end of July.
If space is limited use tubs and containers for veg, but containers will need more attention particularly watering. For gardening tips on growing vegetables in containers follow this link. Tubs are a contained environment and as such they dry out more easily which may present a problem over holiday periods.click here for gardening tips on looking after the garden whilst on holiday.
If you plant out early, any time before end May, have frost protection to hand such a cloches or fleece.
Accept the weather, as you can't control it. Torrential wet summers are a perfect condition for blight and dry summers cause plants to bolt and it never rains when you want it to.
Links to pages of dedicated growing advice.