Growing Wallflowers
Growing Wallflowers - Erysimum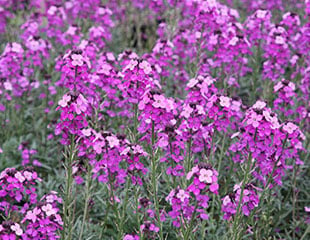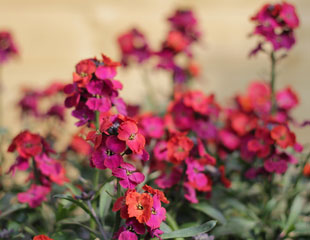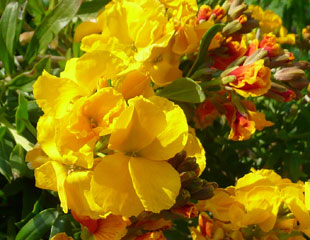 Wallflowers, one of the best scented garden plants are often overlooked, perhaps because of their association with cottage gardens. Progress in plant development means that Wallflowers now come in a host of lovely shades of reds, orange, russet, pinks, apricot, purples both in subtle shades and strong colours. Their scent is amazing, long flowering from spring to early summer.
Wallflowers are easy to grow and need little more than a sunny spot and soil which is well drained or on the drier side. There are both perennial and biennial varieties, and it is the biennial variety which have the best scent. The first image top left E. Bowles's Mauve is a well performing perennial variety of Wallflower, ideal for the borders and long flowering, but it is not scented. This means when growing Wallflowers for scent pick carefully the biennial varieties which do have strong scent and make a really good spring bedding plant. They look fabulous with Tulips which if a late flowering type is selected they will bloom together. Many on line retailers and garden centres sell Tulips and Wallflowers which will flower together for a planting scheme. The biennial varieties can be treated as bedding and once flowering has finished put for compost, although sometimes they are good for another year. They also look good with forget me nots, another spring biennial. The strong red varieties, such as 'Constant Cheer' look great as a contrasting plant combination with lime green Euphorbia.
You can buy Wallflowers, Latin name Erysimum, as bare rooted cuttings in the Autumn which are inexpensive and plant them out to establish roots and growth over the late Autumn and winter ready for flowering in the spring. They can look a bit weedy when first planted out, but they will get established and usually do very well in the spring. Given that Wallflowers are mainly biennial so they will be best the spring after planting, sometimes good the next spring but definitely short lived, it is more economical to buy them as bare rooted plants as compared to the the fully grown container plants sold later in the year at garden centres.
If you miss the autumn planting, which I have often done, Wallflowers are available again in the spring as fully grown plants ready for flowering and whilst more expensive, they do make a great fix for colour and scent in containers and borders. Wallflowers are fully hardy.
Wallflowers are suitable for coastal gardens for advise on plants suitable for gardening by the sea side
Ideas for other spring and summer flowering scented plants.


When selecting Wallflowers a good starting point is to select those varieties which have the RHS award of garden merit. E. Bowles's Mauve although not scented is a great small shrub with lovely mauve flowers over a long period. E. Sunset Apricot' and 'Sunset Primrose Sunset Apricot' and 'Sunset Primrose are good and fully hardy.
Very popular also are 'Constant Cheer' 'Apricot Twist' 'Blood red' and 'Fire King'