As soon as spring arrives so do the slugs and snails. Nasty creatures which can shred a Hosta or tender Delphinium shoots overnight. During the spring and summer slugs emerge, especially during spells of wet and warm weather which will draw them out. Slugs and snails are the No 1 Garden Enemy, with an ability to consume a vast amount of tender plant growth disproportionate to their modest size. They are a problem in the garden and veg plot, how they just love lettuce. It's a war with the slimy creatures.
Most slugs and snails are nocturnal which means night time is a good time to spot and dispatch them. Slugs and snails lay their eggs in the soil where they remain over winter growing into mature slugs.
Getting Rid of Slugs and Snails at a Glance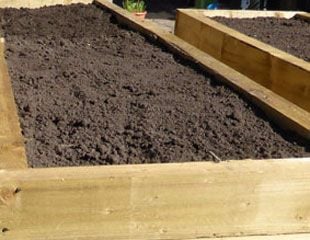 One of the most difficult areas to have slugs and snails is in the vegetable plot. The image left of these raised beds in my garden are constructed from quite rough, coarse wood, railway sleepers, and the roughness of the wood deters the slugs and snails from climbing up them.
These beds are also higher which is a further deterrent. Barrier methods will work with slugs and snails, but this type of raised bed is one of the best vertical barriers and very effective. I would really recommend this construction for raised beds, even growing lettuces they are slug and snail free.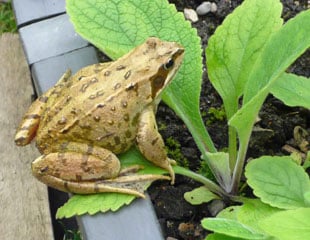 It is absolutely correct that Thrushes love snails; in with the Thrushes and out with the snails. Thrushes will seek out the snails, rummaging around in the borders and undergrowth until they find a tasty snail morsel which they will pick up and carry over to a smashing stone. Thrushes often use the same stone and will hurl the snail onto the stone till its shell cracks, and then snack on it. Nature is brutal, but more Thrushes means fewer snails and better looking Hostas.
Thrushes like gardens with food, so in addition to snails, shrubs with berries such as Cotoneaster horizontalis, Ivy, native Rowan (Sorbus aucuparia) Pyracantha, and Berberis darwinii are a few suggestions.
Frogs will also eat small snails and slugs and can be encouraged into the garden by water in a pond or boggy area and they also like wood piles. If you have no room for a pond, create a suitable habitat choosing damp shady area and plant with shade loving plants such as Ferns, astilbes, and Hosta to make an area frog friendly although this one in the image left joined me at the veg plot for a spot of slug spotting.
There are other predators of slugs which are also eaten by some types of beetle, slow worms, hedgehogs and toads. Thrushes will take the large snails but Black birds and Mistle thrushes will take smaller slugs, so the more wildlife in the garden, the better.
Both slugs and snails reproduce by laying eggs which you can find in the border as small white spherical eggs. They are often in the soil and disturbed by digging.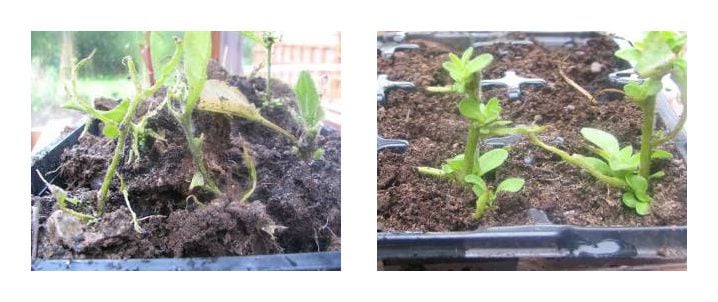 If you have a bad problem with slugs and snails, you can modify your planting so that the plants in your garden are less attractive to slugs. Some plants are just slug magnets, to name a few: Hosta (obviously) (although there are some listed above which are "slug resistant" ) new Delphinium shoots, Beans, lettuce, French Marigolds, Dahlia and Lobelia cardinalis for starters. I once had a lovely scarlet Lobelia cardinalis, which was gracing the edge of a pond disappear overnight consumed by slug. Slugs are also keen on shoots from a newly planted Clematis, which means when planting Clematis if you have a slug problem it is best to protect until the climber gets established.
Equally there are plants that slugs and snails do not like, many of the herbs Rosemary, Sage, Thyme, Lavender and silver leaved or hairy leaved plants. Lots of the popular plants such as Penstemon, Astilbe, Crocosmia, Ornamental grasses, Sedum, anything with tough woody stems and aromatic leaves are not for the slugs. Slugs have no interest in Ferns, Hydrangeas, Japanese Anemones, Poppies (of all types) Geraniums, there are lots to choose from.