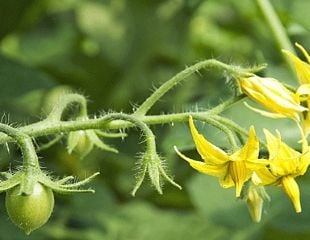 The flowers on tomatoes are very important because they become the fruit, i.e the tomatoes, so the more flowers the more tomatoes. This is show in the image where the spent flowers have become baby green tomatoes with some yellow flowers at the end of the branch which will also become fruits.
Poor pollination can cause a lack of tomatoes. The flowers need to be pollinated to produce the tomatoes, and this is more of a problem for tomatoes grown indoors in greenhouses and poly tunnels. Outside, nature does this by pollinating insects, such as bees. It is important to open the greenhouse doors, windows and vents to let the bees in to do their work. Commercial growers with large poly tunnels and glass houses will import bees to pollinate. I have seen commercial growers in Iceland growing tomatoes in the depths of winter, utilising the thermal underground heat, and importing boxes of bees to fly around and pollinate.
A lack of fruit can also occur during poor a summer if it is persistently wet and cold and the pollinators are not able to fly around as much due to the adverse weather conditions.
Regular watering is really crucial: do not let the plants dry out.
For best results feed regularly as soon as the first flowers appear.
Keep an eye on the plants, thin out leaves and take off side shoots.
Don't give up on them: Tomatoes will crop in a greenhouse until November after which cut the vines and leave somewhere warm to ripen.
To avoid diseases, if growing under glass make sure there is good ventilation and air circulation, and avoid splashing the leaves when watering.