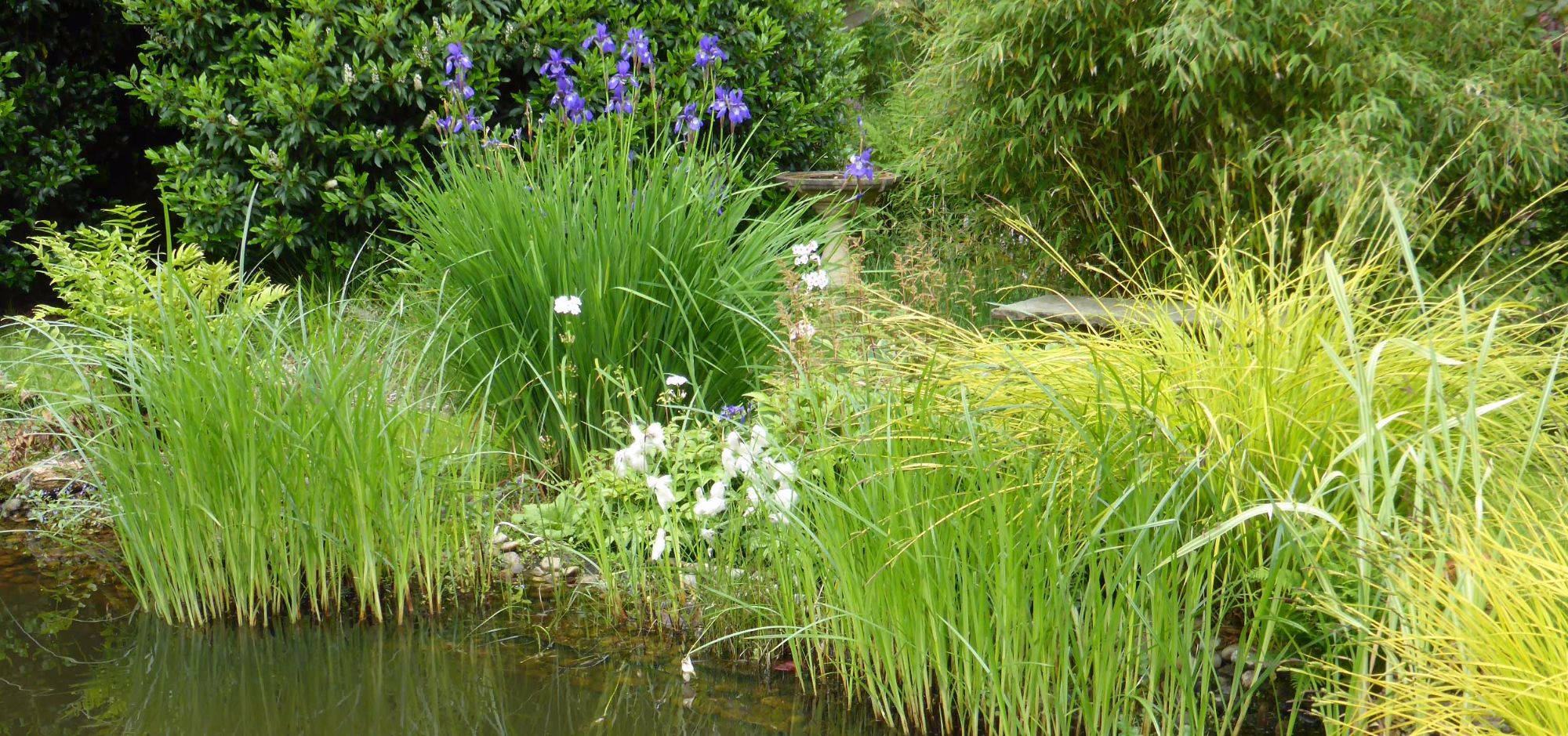 na egami Damp shade in a garden is easier to accommodate than dry shade and there are a good number of plants which will tolerate and thrive in damp areas with reduced sun. The combination illustrated above include Iris, Carex, Astilbe, Hosta and cotton grass all of which are happy alongside and in the margins of a pond.
Many Hostas prefer growing in shade and in these conditions produce the best leaf colour. There are over 70+ species of Hosta too many to list, but there is one for every garden, big or small, plain leaved, variegated yellow or silver, blue leaved Hosta and also lime greens. The only drawback and problem are the garden's number 1 enemy: slugs and snails love Hosta as much as we do. Before you plant check out tips on how to beat the slugs.
There are even more Irises in the world than Hosta. Iris are divided into groups and the Laevigatae group are known as water Irises which thrive in damp places as do Louisiana Irises; check the label on purchase. This group includes the blue iris illustrated and the yellow flag Iris which is very attractive but a bit of a thug, ideal if you have a long bank to cover.
Carex elata 'Aurea' Bowles golden sedge is a well behaved, bright green sedge which will grow both in moist soil and in water and has a lovely arching shape.
Not quite visible in the above image, but planted within the same damp area of garden is one of the Astilbe group, a herbaceous medium sized plant good to grow in damp, and even boggy sites, with feathery plumes of flowers usually either white, pink, mauve, red and yellow. It is very easy to grow and comes up reliably each year flowering from mid summer onward.
Follow this link for many More ideas of suitable plants for damp shade