There are many plants and shrubs which will survive and growing happily in damp shade. These are not bog plants, but plants which will tolerate partial shade conditions, and ground conditions which are damp, as opposed to plants suitable for dry shade.
Illustrated above left is Digitalis purpurea, Foxglove of which there are several varieties including a pure white variety 'Alba'. Digitalis will grow in sun or shade and will grow where it is damp, and some very dry areas such as walls, Foxgloves are a very forgiving plant. They are biennials which flower in the summer and self seed around the garden to produce new flowers year after year. Digitalis are easy to grow, but one cautionary note is that all parts of Digitalis are poisonous.
Illustrated above right is Hosta, well known for being tolerant of damp and shady conditions, some varieties more so than others. Ideal Hostas for damp shade are H.fortunei 'Albomarginata' large Hosta 75cms with green and white ivory variegated leaves; H fortunei albopicta large 75 cms variegated hosta ; H.'Frances Williams'(sieboldiana) smaller 60cms blue green leaves; H. 'Halcyon' smaller Hosta at 30cms blue leaves. Hostas are easy to grow (apart from the problem with slugs and snails;) and there are many many varieties to choose from of all sizes and variegations, with more tips and images on the growing Hostas pages.
Illustrated centre is Fritillaria meleagris, the delicate Snake's Head Fritillary, a spring flowering bulb happy to grow in shade and quite wet soils, see below.
Many of the plants listed below are easy to grow and are labelled with a green wheelbarrow, more difficult plants are labelled with an amber wheelbarrow which means medium difficulty to grow.

Easy to grow plants for damp shade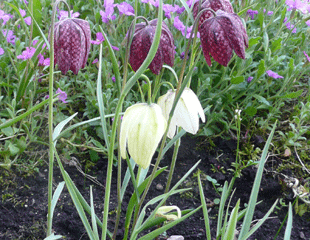 Fritillaria meleagris, common name Snake's Head Fritillary, is a lovely delicate bulb which flowers in spring and has chequered bell like flowers in shades of purple and F. Alba is a white variety, both are fully hardy. Good in damp soil and will tolerate some shade, they are easy to grow, and once established will multiply and populate a suitable damp area of the garden and come up reliably each year. They are low growing up to 25/30cms.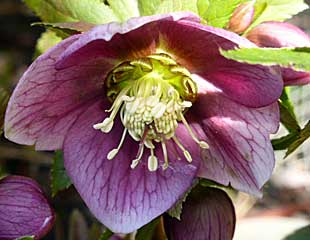 A number of Hellebores are suitable for damp shade and grouped together they make a lovely late winter and early spring display. Helleborus orientalis 'The lenten Rose' is particularly attractive as is the H. Niger 'The Christmas Carol' both are tolerant of shade and damp soil. Hellebores make a neat clump and are generally trouble free apart from black spot.
They look good in a woodland setting such as under planting Rhododendrons, some of which will grow in shade. Hellebores are easy to grow plants which spread and self seed in a well-behaved way; tips and advice on growing Hellebores. They are also suitable for growing in containers for winter bedding scheme.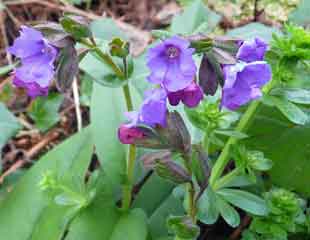 Pulmonarias, common name lungwort, are a small perennial tolerant of damp shade. They are low growing, late winter flowering and form good ground cover. Because they are so early to flower, Pulmonaria are an early source of nectar for emerging solitary bees in late winter. Pulmonarias are easy to grow and form neat clumps if left undisturbed.
Their flowering colours are blue, pink or white and some varieties have mottled, variegated leave. Pulmonaria are ideal planted alongside early flowering spring bulbs and primula. Depending on where in the country they are being grown, Pulmonarias flower from around late January onwards.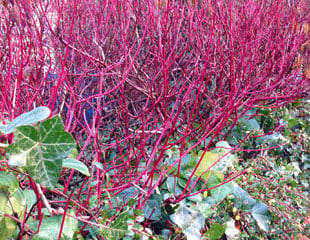 perennial andCornus, common name 'dogwood', is a deciduous shrub which has great winter colour with striking coloured stems, as illustrated left the variety Cornus Alba. For good winter colour there is also 'Elegantissima' and 'Sibirica' and Cornus sericea 'Flaviramea' for yellow stems.
Cornus have a variegated leaf and creamy white flowers in late spring and summer. To maintain the winter colour the stems are best coppiced, that is to say cut to the ground at the end of each winter. Cornus are easy to grow, trouble free and an ideal shrub for a damp area of the garden.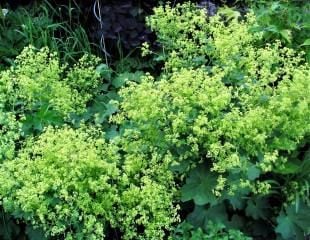 Alchemilla mollis will grow in partial shade and damp conditions. Alchemilla is a herbaceous perennial and very easy to grow, too easy, as it carries a garden warning because it is a vigorous self seeder, and will pop up everywhere once established. It is not difficult to remove or thin out, and in situations where ground cover is needed it can be very effective. Alchemilla looks good growing with Primula, many varieties of which are also tolerant of these conditions. Alchemilla can look a bit ragged and tired later in the growing season when it is best cut back right to the ground and it will rapidly replaced with fresh green foliage for the rest of the season.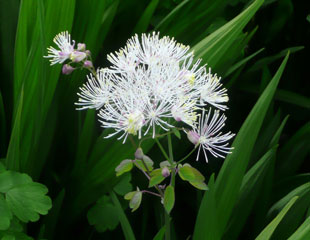 One of my absolute favourite plants, which is so colourful and graceful, is Thalictrum. It is a tall, herbaceous perennial which returns reliably every year. The variety illustrated is 'Alba' but more common and widely available is the purple variety, which produces tiny fluffy purple flowers and tall stems which sway around in the breeze. Although a tall plant, unless planted in an exposed area Thalictrum can be growing without staking. There is so much to recommend Thalictrum, tall and graceful, lovely flowers leaving attractive seed heads. For tips about growing Thalictrum.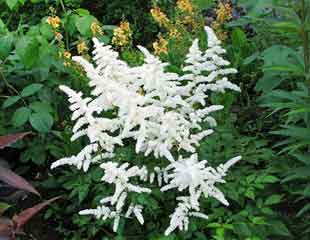 Astilbe is a great plant for damp conditions and tolerated of partial shade. Astilbes come in many different colours, mainly pinks, purples white and cream. The Astilbe illustrated, Astilbe 'Professor van der Wielen' is a bright white variety and, like all Astilbes, easy to grow. Astilbe will flower reliably for many years, making them good value for money. Astilbes look good with ferns, many of which are also tolerant of shady, damp conditions. The flower heads are soft and fluffy and a good mix in the border. An easy to grow reliable plant which needs no real attention or maintenance.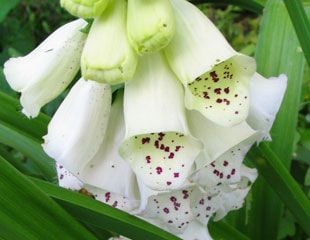 The Foxglove is tolerant of many growing conditions including damp shady sites. Often thought of as a cottage style plant the white varieties look very stylish, especially in shade areas of the garden where they look illuminating.
Foxgloves are easy to grow, self seeding biennial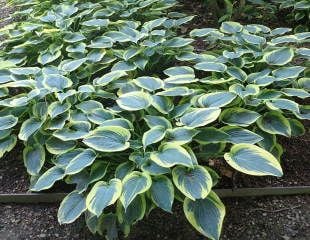 A fantastic shade plant Hosta is easy to grow with the caveat of slug protection. Hosta is a herbaceous perennial, it returns reliably each year and is grown for its very attractive foliage.
There are many varieties of Hosta to choose from giants to tiny petite plants. Many Hosta have very attractive variegated leaves but although easy to grow, they are slug and snail magnets, (advice on how to beat the slugs.) Grow the more slug resistant varieties.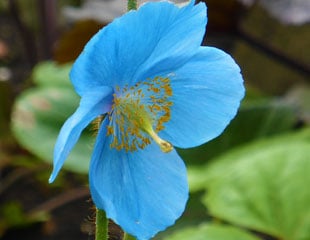 Meconopsis Grandis 'Branklyn' the Himalayan Blue Poppy is a stunning plant, but it is not easy to grow and can be short-lived. It needs a sheltered, shady spot in moist, acid soil. It will not tolerate warm dry spots. It is a native of Tibet where summers are cool and wet and winters cold and snowy. Meconopis will grow to around 1m, it is summer flowering and fully hardy. Meconopsis can short lived and if grown in a dry spot will be Monocarpic, i.e. die after flowering, so the right spot is crucial. Some varieties are Monocarpic by nature, and so selecting a variety is important. Amongst the best suggested to try are M. betonicifolia and grandis, which are not by nature monocarpic and have the additional benefit of having the RHS garden merit award, making them a good choice. The Himalayan Blue Poppy is a plant which thrives best in the norther parts of British Isle and Scotland to enjoy conditions which are cooler and wetter. Recommended varieties with award of garden merit are M.baileyi, M 'Jimmy Bane', M. 'Huntfield' and M. 'Barney's Blue'.