Scented plants
I just love scented plants which are such a bonus in the garden with the added benefit that many are attractive to bees and butterflies. Warm days enhance the scent, and it is so nice to sit near to or walk around scented plants. Even if your garden space is limited, you can create a wonderful scented area by container planting a few chosen plants close to the house or a patio area.
Many scented plants are easy to grow and are described in the information below. If you are looking to fill a gap in the border, check out the lists below of scented plants and shrubs. There are scented plants for all times of the year and many of the most aromatic plants are the most attractive to bees and butterflies.
There are our garden favourites such as Lavender, Roses and Honeysuckle, but there are many more to chose from, including very fragrant shrubs. The shrub Daphne is known for is lovely perfume but is not 100% reliable or easy to grow compared with Choisya, which is very easy to grow and has the benefit of being an evergreen shrub with attractive glossy leaves and very tolerant of a wide range of conditions. Equally easy is Philadelpus, The Mock orange, a deciduous summer flowering shrub which will fill the air around it with lovely scent.
Best Scented Garden plants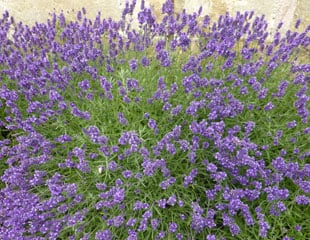 Lavender a great garden favourite. It is a summer flowerin gperennial and illustrated is English Lavender which is hardier than L. stoechas the french Lavender and better scented.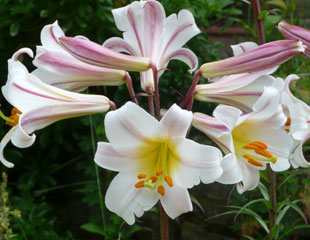 Lily a showy, powerfully scented bulb flowering in the summer. Not all Lily flowers are scented check out growing advice to pick the best for your garden.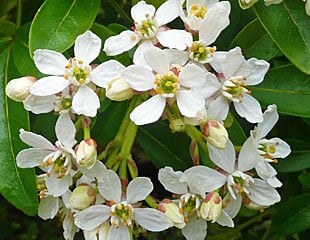 Choiysa is a lovely evergreen shrub with glossy leaves and a rich sweet scent flowering in early summer during May. Known as Mexican orange blossom because of it's lovey scent it is also easy to grow.

Many Viburnum are highly scented. Viburnums are easy shrubs to grow which required little or no maintenance. This variety x carlcephalum has dozens of very scented snowball like flowers in early spring, tips on growing Viburnum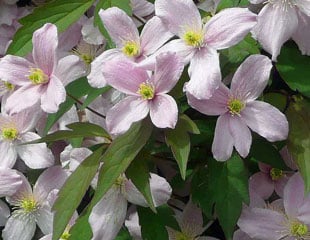 Easier to grow than most Clematis Montana Elizabeth has flowers which are scented vanilla. As a Montana it is vigorous, and is May flowering and Pruning group 1. For all about growing Clematis including Montana Elizabeth

Wisteria a spectacular scented climbing plant which flowers in May. Unfortunately it is not easy to grow, advise on growing Wisteria and a video on how to prune Wisteria which is important to keep it flowering each year.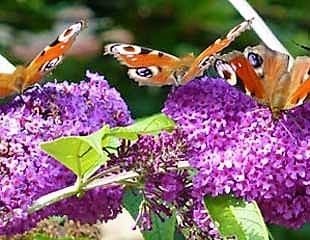 Buddleja is a scented deciduous shrub, very aromatic, which draws the butterflies to it. It is a summer flowering shrub. There are many varieties and all are easy to grow with only a limited requirement for pruning and reward with scented flowers in late spring and early summer

Sweet Peas are highly scented annuals, which means they grow and flower in one year and are then finished. A highly perfumed climbing plant, which adds height and scent to a border, sweet peas have a long flowering period through the summer. The downside is that sweet peas need a lot of attention. Lots of advise on the growing Sweet Peas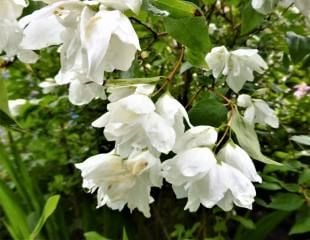 An easy to grow shrub with wonderful scented flowers. It is deciduous, and fairly vigorous so it does need some space in the border. Philadelphus flowers in spring and early summer and makes a great addition to a mixed shrub border. Tips on growing Philadelphus.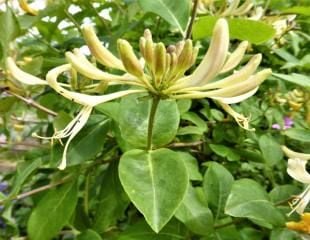 Honeysuckle is a woodland climbing plant with lovely sweet scent. It is a garden favourite. easy to grow; as a woodland plant it likes it's roots the shade. Some varieties are more scented (and flower at different times) than others more information on the best varieties to grow. Many Honeysuckle are summer flowering.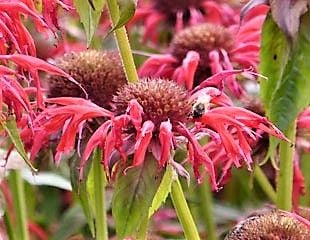 Monarda
is a herbaceous summer flowering perennial with aromatic leaves and very attractive to bees. It is clump forming and the one illustrated is M.Squaw . The only draw back is that is a relatively short lived perennial but well worth growing, not least to help the bees it's common name is Bee Balm.

Nepeta common name Cat Mint is a summer flowering scented perennial and a much better plant that it greats credit for. Aromatic, attractive to bees and almost anywhere and makes a soft blue cloud of colour. It is ideal in blue colour schemes where for example Lavender will not tolerate the conditions,

A lovely scented shrub, Daphne is ever green or semi evergreen and in good growing conditions Daphne has lovely dark green waxy leaves and a sweet scent. Daphne is fussy about it's soil conditions and needs a sheltered spot. Daphnes flowers at different times of the year, a popular variety D.Odora flowers from January to March. Growing tips.

Peony a lovely lightly scented summer flowering herbaceous perennial which is valued for it's large saucer like blooms. A very attractive plant but it can be tricky to grow and a bit fussy; for growing advice and good varieties. Once established Peony is trouble free.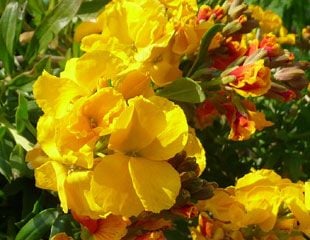 One of the strongest scented and easy to grow plants, Spring flowering Erysimum, common name Wallflower really has the sweetest of scents. Wallflowers are easy to grow and combine well with spring bedding I cannot have a garden without Wallflowers.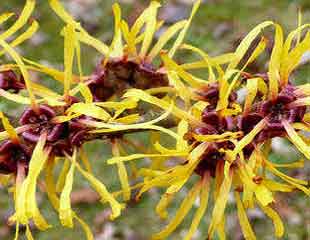 Hamamelis common name Witch Hazel is a winter flowering shrub/small tree and which has a sweet citrus smell. It is deciduous and the flowers form ahead of the leaves. They look lovely in a woodland setting; Witch Hazel is easy to grow.

Many Spring bulbs are scented and there is a large range of scented Narcissus which have beautiful sweet scent and lovely to cut and bring inside. Some tulips are scented such as T. 'Ballerina' which combine well with Erysiumum shown above.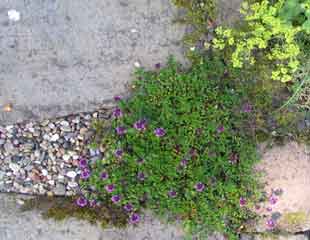 Many herbs are have fragrant leaves and are very attractive to bees and butterflies. Clump of chives guarantees bees and herb gardens are usually buzzing with bees . Whilst not sweetly scented like a Daphne, most herbs are distinctly aromatic, and Herbs many are easy to grow.