Summer Flowering Shrubs
Summer flowering shrubs like so many shrubs create structure and shape in the garden.
Many shrubs are easy to grow and low maintenance, providing colour for not too much hard work. As with all shrubs, they have individual growing requirements, but one general point to check is the eventual size of the shrub. The plant label should give this information as it's important if the shrub is not to swamp other plants in the border. For example right is hydrangea lovely but quite big a spread of 1.5m so it will take up a fair amount of the border. Similar the Buddleja which is great for attracting butterflies and pollinators, but matures to a large shrub.
Below are illustrations and links to information about individual summer flowering shrubs, their preferred growing conditions, eventual size and everything you need to know about growing summer flowering shrubs.
Best summer flowering shrubs

Hypericum is lovely smaller sized shrub with attractive yellow flowers. They tend not to be fussy about growing conditions and most are deciduous or semi evergreen. After flowering the stems and berries are good for flower arranging.

Hydrangea is a popular, easy to grow summer flowering shrub. There are many varieties of hydrangea to choose from with the bonus of being long flowering with attractive fading flower heads. A whole Pinterest board of Hydrangeas

Cistus is known as the rock rose and is a small to medium sized summer flower shrub with attractive flowers which tend to like dry sunny conditions. illustrated is C. purpureus.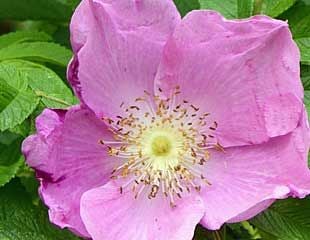 If you find roses hard to grow try out R. Rugosa it is easier, less fussy about conditions and pruning, and has lovely hips after flowering. It is also suitable for a coastal garden.

Cotinus may not be the traditional summer flowering shrub. In summer Cotinus produces many tiny flowers which makes it look as if wreathed in smoke, hence it's common name The Smoke bush. Many varieties also have fabulous autumn colour.

Buddleja, common name the Butterfly bush, rightly earns the title. In the summer on a warm day each flower can attract several butterflies. Easy to grow and now there are smaller dwarf varieties suitable for all gardens.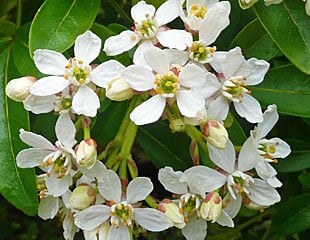 Choisya a garden favourite. Lovely evergreen shiny leaves and in early summer dozens of creamy white very scented flowers. It is also easy to grow what is there not to like.