Welcome to the Sunday Gardener
It's September and we begin to have a hint of Autumn, early this year. A few shrubs and trees such as Beech and Oak are starting to show signs of autumn colour.
The Sunday Gardener's Calendar for September is full of tips and growing advice for this month including:-
How to harvest and store onions, garlic, potatoes and a fool proof way to ripen tomatoes. Last minute sowing of late herbs and time to prune Lavender.




September is Sedum time and as the flowers bloom the bees, pollinators, and butterflies mass around. Of all the wildlife friendly plants, Sedum is definitely one of the best. Plant Sedums around a patio or seating area to be able to watch the wildlife close up. Advice on how to grow and propagate Sedums, and good varieties to try.
Main crop potatoes can be lifted in September ready for storing. It is important that potatoes are stored away from the light and in a dry spot. Hessian sacks are ideal and can be used year after year.
Check out September's gardening calendar for more veg tips.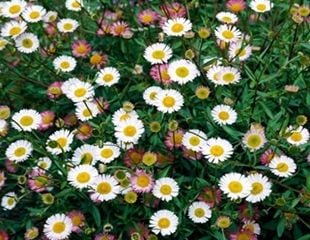 Illustrated here is Erigeron karvinskianus a lovely herbaceous perennial with lots of daisy like white and pink flowers.
It adapts well to growing in awkward spots, walls crevices, tumbling over steps and on mass makes a great carpet of flower. Images on Pinterest garden ideas.

A favourite Clematis, Perle d'Azur still flowering in September with delicate powdery blue flowers. It is deciduous, vigorous, growing between 2.5 - 4 m, free flowering and a group 3 for pruning. Hardy to H6 it will grow in sun and partial shade, and in common with all Clematis prefers it's roots in a cool shady spot.
Advise on planting, growing and pruning Clematis.
Gardening tips and help on how to grow all sorts of vegetables and inspiring images of vegetable in some of our best RHS and show gardens on Pinterest.
More than ever gardening is about being greener and helping wildlife. Ideas about wildlife friendly plants and plants for bees and butterflies which are easy to grow and will ensure your garden has a buzz.