Welcome to the Sunday Gardener
April brings warm spells when spring is in the air when it's lovely to get out into the garden and enjoy it.
Strawberries are one of our favourite fruits and fully hardy which means you can plant them out now. To encourage an earlier crop cover with a cloche for added warmth.
Remember though, it is still too early to plant out bedding plants and tender vegetables.
Ideas for gardening in April.




Early flowering Clematis in April is C. alpina 'Frankie' which is a lovely soft blue. All the C. alpina are group 1, no complicated pruning requirements and will tolerate some shade ideal for growing in shady corners of the garden.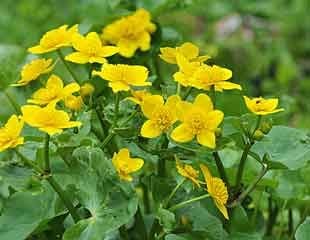 Staying with the bright yellow spring theme, the Marsh Marigold is stunning buttercup yellow. It is a herbaceous perennial which returns reliably each year likes damp, boggy areas and is very happy growing alongside a pond or stream in wet conditions.
Gardening tips and help on how to grow all sorts of vegetables and inspiring images of vegetable in some of our best RHS and show gardens on Pinterest.
More than ever gardening is about being greener and helping wildlife. Ideas about wildlife friendly plants and plants for bees and butterflies which are easy to grow and will ensure your garden has a buzz.


"Sunday in the Garden" is a monthly newsletter with seasonal advice and ideas. Each month there are gardening ideas and tips on how to get the best from your garden. Always featuring easy to grow plants to sign up.