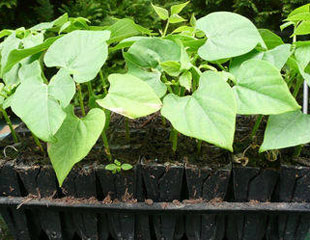 All the pea and bean family, Broad Beans, Runner Beans, Peas and French Beans are an easy and rewarding crop to grow. These are great vegetables to get children interested in gardening, because they shoot up quickly, they are trouble free and fun to pick. Also, if you want to try germinating your own plants from seed, Runner beans, French Beans and Broad beans are a good place to start as they are easy to germinate and are economical to grow from seed. Each of these beans are different in terms of growing conditions, how they climb, their hardiness and they each have different growing requirements. Even so all are easy to germinate from seed so a good veg to start with if you have not germinated plants before. Broadly speaking the toughest and hardiest are the broad beans, then runners beans, Peas, and French beans need the most warmth and sun to crop well. All beans germinate quickly in the right conditions the beans will emerge within 5-7 days of sowing.
All beans like a long root run and are best germinated in either into specially purchased root trainers, image left, or cheaper, toilet roll holders.
Sow in the order you will plant out: Broad beans, Peas, Runner beans and then French beans.
If you do not have space to germinate and grow on the young plants under glass/insider, you can sow directly into the veg plot in May or buy small plants from the garden centres. If you sow directly into the plot, beware of mice who will eat the seed.
Plants grown from seed will need to be hardened off before planting outside. This is because the small plants have been cossetted in a greenhouse or on window sill in relatively sheltered conditions and need to be gradually accustomed to the outside climate. Place outside on mild days during the day and bring in on cool nights gradually increasing the time outside. Always pprotect French beans and Runner beans from frost by covering with cloche or fleece.
Treat the different types of beans differently; Broad beans are more hardy and will withstand some chilly weather, Runner beans a bit less so but will take it cooler, and French beans are very cold sensitive and really hate chilly winds.
To avoid gluts plant successively, which means plant out new plants or sow into pots/directly into the soil every 2 weeks. In theory this means plants come to cropping every two weeks but the weather conditions can interrupt this carefully laid plan.
For more detailed information and tips on growing Broad Beans, Runner Beans and Peas
Video advise how to sow and germinate from seed.

All members of the pea and bean family are easy to grow and generally speak fast growing. Broad beans, Runner beans, Peas and French Beans are all Green Wheelbarrow