Potatoes are one of the easiest vegetables to grow and they need only limited attention during the growing season. You can choose from many types of potatoes on sale, earlies, main crop, salad potatoes, heritage, even blue potatoes what you grow is personal choice. Potatoes are ideal for growing in the veg plot or containers. There is detailed planting advise below but bear in mind the top grow, the foliage is called Haulm, is frost sensitive. This means if you have planted early, or the plants have put on spurge and the foliage is above the soil and bad weather is threatened you will need to protect the top growth from frost.
Once they are growing and the foliage (haulm) is above the earth, Potatoes do well if they are earthed up regularly, (see below) water potatoes if dry and feed them, if you have time. If it is a reasonable summer with no blight, potatoes will grow with little attention.
The main problem when growing potatoes is blight which is described below. Essentially, it is an air-borne fungus which will strike if the conditions are right, generally this is a spell when it is warm and damp, and cannot be cured.
Best tips when growing potatoes:
Start with good quality seed potatoes
Always earth up potatoes even when growing in pots.
Take great care not to damage the top growth especially when earthing up
Water well, potatoes need a good amount of rain to grow well and feed regularly.
If you live in a blight prone area, see below, grow the blight resistant varieties of Potato.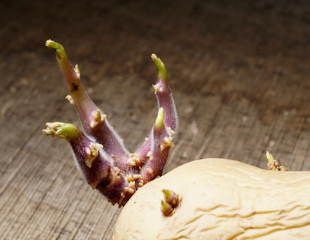 In Jan/Feb, some weeks before you are ready to plant out the potatoes, lay them on paper in a light cool room away from direct sunlight to allow the tubers to form shoots, as in image left. These have just been laid out, after a short time the potatoes will start to form shoots. Chitting is often the first step to growing potatoes but not essential to a good crop.
There is a gardening debate whether it actually makes any difference to chit the potatoes first, or not.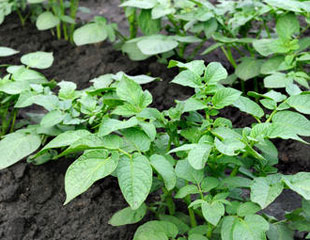 When growing potatoes if you plant out early or we have late frosts you need to protect the top growth, called haulms, from frost. Potatoes are not frost hardy (What does "frost hardy" mean?) As soon as the shoots appear earth up or cover the growth by adding more soil in the pot.
However, frost protection is only one reason for earthing up, its not the only reason. Its more fundamental. "Earthing up" which means as the top growth appears, extra soil is added to the pot, or scraped up around the potatoes if in the ground, to form a mound and continue with earthing up as the potato grows, (see image left.)
Earthing up increases the depth of soil. The potatoes form under the soil beneath the plant so a good depth of soil or compost is needed for the potatoes to grow.
If the potatoes are in the veg plot, earth up to create raised ridges up to 30 cms. Earthing up will help to increase crop yields and offer some protection against blight.
It also helps to keep the potatoes in the dark so that the tubers do not become green.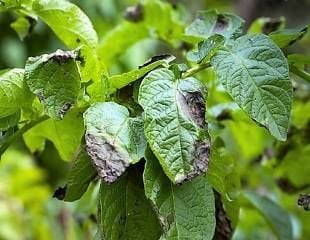 Potato Blight is the main problem when growing potatoes. It is an air bourne fungus type disease which attacks the foliage (and later the tubers) causing it to collapse. It commonly occurs in wet, mild and humid conditions and is difficult to manage. It will affect tomatoes as well, although if they are grown in a greenhouse this will afford some protection as it is mainly, but not exclusively, a disease which affects out door crops. It starts with brown marks on the leaves, image left and quickly spreads so that all the foliage turns brown or black collapses and the plant looks patently sick; it cannot be missed. Once it takes a hold, there is not much that can be done as it spreads rapidly.
Good air circulation can help and to achieve this do not plant the tubers too close together. In addition, follow crop rotation. This means not growing potatoes where they were grown the previous year. The fungus can overwinter in any tubers left in the soil and the virus can spread from there. This is why when clearing the veg plot at the end of the season it is important to remove all potatoes including any tiny ones.
You can also Blight resistant potato varieties, which does not guarantee that Blight will not visit, but very much reduces the chances. Late varieties of potato are more prone to blight so growing earlies and salad potatoes may escape as the warmer humid temperatures are more likely later in the year. In the eastern parts of the UK and drier areas it is less of a problem which may be why a lot of potatoes are grown in Lincolnshire. It is the humid warm air which allows the pathogen to spread, and it can destroy a crop in a couple of weeks.
If the plant becomes badly infected, the only possibility is to cut off all the infected leaves close to soil level and be careful to pick up all bits of infected leaves. If the blight has not reached the tubers, they can still be harvested later, if the blight occurs later in season, so the tubers have grown sufficiently to make a decent meal.

There are also varieties offered for sale by garden centres and on line which are more resistant such as Sarpo range and it certainly worth looking at this range if growing maincrop which will mature later.
Potatoes also suffer from keeled slugs which live underground and bore into the tubers, which damages them and makes them prone to rotting. Because this form of slugs lives so far underground slug pellets are not effective, nematodes are a better suggestion.
Potatoes also get scab which makes them look unattractive but they are edible and not noticeable when peeled. This tends to be more of a problem on thin chalky soils which are prone to drying out the addition of organic matter will reduce the risk of scab.