Hydrangea are a deciduous, summer flowering shrub with large, showy flowers.
Hydrangea are easy to grow and require only minimal pruning. They are not fussy about soil types and most, including the climbing Hydrangea, will grow in partial shade. Hydrangea are large shrubs from 1.5m - 3m (3-10ft) requiring a fair amount of growing space.
Hydrangea have large showy flower heads, predominately flowering in pink, mauve, blue, cream and white, and multicoloured such as Hydrangea macrophylla 'Merveille'. Some varieties of Hydrangea change colour depending on the pH of the soil, acid or alkaline. This applies to H. macrophylla, the mopheads and lacecaps varieties, where the flowers are blue when grown in an acid soil and pink if planted in alkaline soil; the white flowers are unaffected.
There are also some varieties of Hydrangea which have scented blooms, such as Hydrangea paniculata 'Wim's Red' and also some compact varieties H. panciulata Little lime ('Jane') and Hydrangea with beautiful delicate colours such as pink turning to white as in Hydrangea paniculata Vanille Fraise ('Renhy')
The range of Hydrangea is wide and varied, and many are illustrated below and also on Pinterest board. When selecting a Hydrangea for the garden it is best to check out the variety carefully, some will grow to around 3m which is a bit large for the average garden , but there are Macrophylla varieties which reach around 1.5m. a useful size for most gardens.
When and How to Prune Hydrangea
You need to decide which type of Hydrangea you have to know how and when to prune it. Hopefully, the images and descriptions above may help.
H. Mophead and Lacecaps flower on old wood (what does this mean?) and they are pruned lightly in spring. Just cut back a few cm down to a bud, do not prune hard although you can remove spindly, weak growth. The image drawing below shows the light prune required for Mopheads and Lacecaps.
Hydrangea paniculata, distinguishable by its cone shaped blooms, flowers on the current year's growth (wood) and is pruned much harder in late winter/early spring. This means all the flowers are produced on new stems which grow in the same year as flowering. When you prune H. paniculata, cut back to a framework to enable the shrub to make new growth.
Pruning is not essential both Mophead and Lacecap will flower without pruning. The benefit of pruning is to keep the shrub in shape and pruning can improve flowering.
Pruning in late winter or early spring has the risk of frost. If there is a severe frost, it can damage the new growth, and it may be necessary to prune again back further to a pair of healthy buds. Also on older shrubs remove a few, 2/3 older stems from the based which will encourage new growth later in the spring.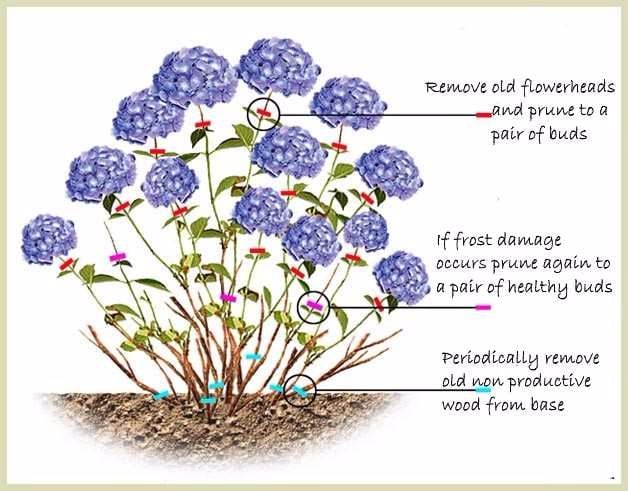 1. Lacecap Hydrangea just light prune in February to remove the top of the stems with last season's flower head in place. Cut down to just above a green bud, which should be evident by late winter around February. Do not prune harder, or lower, a mistake which can prevent the Hydrangea flowering later in the summer.
2.Climbing Hydrangea prune immediately after flowering to restrict its growth, cutting back long shoots. It can be pruned harder if needed. If pruning hard, it is best to stagger over more than one year because if it is pruned hard all at once, there may be significantly fewer flowers the next year.
3 Hydrangea paniculata and H. arborescens need more attentive pruning, (which may be why they are less popular.) Each spring prune back to a framework which means cutting back stems to a pair of buds. These varieties flower best if pruned harder so can be cut back to the lowest pair of buds which may result in the plant, post pruning, only being 25cms but you can, of course, leave several buds on and prune less hard.
The easiest hydrangea to grow are the Lacecaps and Mopheads as you can simply remove the old flower heads in the spring, cutting down to a pair of buds and that's it.

Hydrangea is a green wheelbarrow shrub, being easy to grow and tolerant of most conditions.
Last updated 22/10/2023