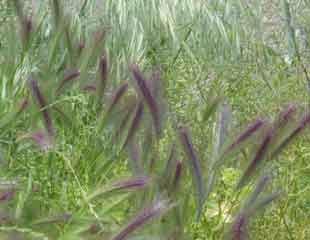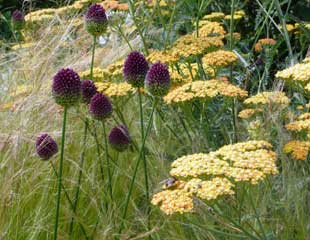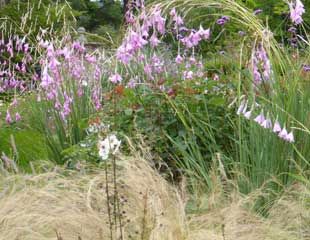 Many Ornamental grasses are easy to grow and maintain. Even though some are as tough as old boots, they are graceful and create movement in the border. On a summer's day, with the light behind them, ornamental grasses shimmer and dance; in the winter they sparkle in the frost and snow.
Ornamental Grasses make me as lyrical as I can be about any garden plant. They look good grouped together, but are also ideal planting companions. If you are not growing grasses now, I hope this page, the images and on Pinterest will inspire you to do so.
The new garden at RHS Bridgewater has made extensive and inspired use of grasses in the planting. A visit in later in the summer will not disappoint when the grasses are at their best. There are images of RHS Bridgewater Pinterest page.
Grasses look terrific in the winter when the frost catches them. For this reason, it is always worth planting grasses where the winter frost and sun will make the grasses sparkle, Ornamental Grasses in winter illustrate this point.
Listed below are some of the most popular, and easy to grow grasses. It is always worth checking the frost hardy rating of the grass before setting your heart planting it as many offered for sale are trendy, but often are not fully hardy, which can be a problem in some parts of the UK. Anything on which the label says "needs winter protection" is not likely to be hardy and will need care over the winter.
Ornamental Grasses mix well with a host of garden plants. Check out Best grass planting combinations and also Pinterest board with lots of inspirational images on growing grasses.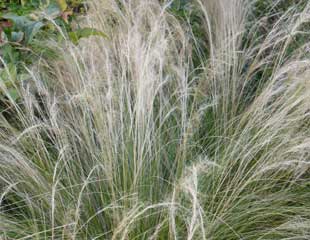 Of all the different Ornamental grasses, Stipa tenuissima is a favourite and a fabulous-looking grass with many very fluffy flower heads. It is so tactile, impossible to walk past without stroking it. S. Tenuissima is fully hardy and fast growing up to around .6m. It needs nothing more than a trim back in the spring and a sunny, well-drained spot. S. Tenuissima is also illustrated top right, with Dierama, Angel's fishing rod and Tenuissima looks good with many garden plants including late flowering perennials such as Echinacea purpurea, Helenium and with Allium sphaerocephalon, which is the late flowering variety .
Another commonly grown Stipa is S. Gigantea, known as Golden Oats, which grows best in moderately fertile soil with plenty of sun. Gigantea, as the name suggests, is large grass which grows up to 2.5m with large Oat like flower heads. I took this image at RHS Bridgewater where the Stipa looks effective towering over mixed planting in a border.
It is semi-evergreen, and it is best to remove dead leaves in spring. Whilst the growing conditions described above are the ideal conditions, I have several self seeded S. Gigantea, which are growing in a boggy area next to the stream. S. Gigantea is a tough plant which will tolerate diverse growing conditions.
One of the easiest Ornamental grasses to grow of is Molinia, a tough and trouble-free grass, making it ideal for planting troublesome parts of the garden. It will grow in most places. It will grow in partial shade and it is fully hardy.
It is hard to capture on camera how this grass will shimmer and M.caerulea known as Purple Moor grass as it has a delicate mauve hue to it. All Molinia grasses have a fine shimmering look and good Autumn colour.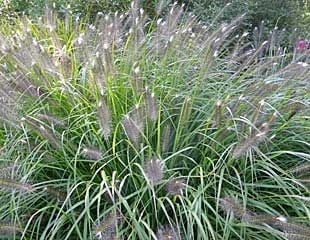 There are some fabulous ornamental grasses on sale in the garden centres and online, but some are not fully hardy, which can be a problem in many parts of the UK. Not all plant labels make clear the hardy rating of a grass and this is very important.
Illustrated left is a very popular Ornamental grass, Pennisetum alopecuroides, commonly known as fountain grass 'Red head' which look just fabulous. But it is H3 rating, which means it is only hardy in mild or coastal areas, and will require winter protection without which it is liable to be killed by winter weather. Plants are expensive and it's very disappointing when they do not come back the following year. It's not just a question of right place right plant, the Hardiness rating is critical.