Strawberries are a popular choice, nothing beats the flavour of a home-grown strawberry picked and eaten warm from the sun. Strawberries are easy to grow and trouble free requiring a little time and attention to get a successful crop. Ideally, Strawberries are best planted in autumn, but Strawberries will grow well planted in the Spring although they may produce less fruit in the first year. Strawberry plants fruit best in years 2,3,4 and then usually need replacing. Strawberries prefer good drainage which makes Strawberries ideal for growing in containers (see image below.)
Strawberries have small flowers, usually white or pink (image above) from which the fruits will form. Flowers and fruit are delicate and need protection against dirt splashes and birds. Strawberry fruit is prone to going mouldy if it gets covered in dirty soil from splashes and the birds love strawberries as much as we do. If not protected, the birds will peck at the fruit which damages it, and eat the crop. Some form of netting to protect the strawberries is essential, see below.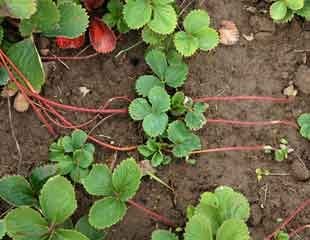 As the season progresses Strawberry plants put out runners which are leads from the plants with a tiny plant on the end. This is shown in the image above in the centre. Mostly during the growing season it is advised to cut off runners to encourage the plant to put it's energies into fruiting not making more leaves. Later in the season these runners can be used to make new plants which given the short life of strawberries, 4-5 years, helps to replenish the stock of plants. Take the runner and plant either in the ground or put a small plant pot filled with good compost underneath. Leave for a few weeks until well rooted then cut off the runner separating it from the main plant. Grow on and pot on the small plant putting it into the strawberry bed replacing one of the older plants which is providing less fruit.