Nothing beats the flavour of a home-grown strawberry picked and eaten warm from the sun. Strawberries are easy to grow and mostly trouble free, requiring a little time and attention to get a crop. Strawberries are a frost hardy perennial, which means once you have set out your dedicated strawberry patch, they will withstand our winters and fruit for a few years.
The best time to plant strawberries is in the autumn, but strawberries will grow well planted in the Spring although they may produce less fruit in the first year. Strawberry plants yield fruit best in years 2,3,4 and then usually need replacing. Strawberries prefer good drainage, which makes strawberries ideal for growing in containers (see image below.)
Strawberries have small flowers, usually white or pink (image above) from which the fruits will form. Flowers and fruit are delicate and need protection against dirt splashes and birds. Strawberry fruit is prone to going mouldy if it gets covered in dirty soil splashed up by the rain, and birds love strawberries as much as we do. If not protected, the birds will peck at the fruit, which damages it, and eat the crop. Some form of netting to protect the strawberries is essential, see below.
The fruit cage above is sturdy and raised a good distance from the strawberry plants.
In the 2020 growing season, I constructed something which I thought would look a bit more attractive used woven Cornus stems arched over the plants, as shown on the left.
It looked more attractive, or rustic and I thought a good use of garden materials. It deterred the birds, but unfortunately not squirrels. I do not think it entirely coincidental that 2020 was the first and only year that Squirrels have eaten my strawberry crop. The two videos below may raise a smile. Going forward, I'll revert to the previous design and see if I get lucky, or the Squirrel does.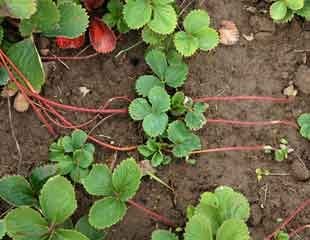 As the season progresses, strawberry plants put out runners which are leads from the plants with a tiny plant on the end. Runners are shown in the image left. Mostly during the growing season, it is best to cut off runners to divert the plant energy into fruiting, not making more runners.
Later in the season, these runners can make new plants which, given the short life of strawberries, 4-5 years, helps to replenish the stock of plants. Peg the runner and plant either in the ground or put a small plant pot filled with good compost underneath. Leave for a few weeks until well rooted, then cut off the runner separating it from the main plant. Grow on and pot on the small plant, putting it into the strawberry bed replacing one of the older plants which is providing less fruit.