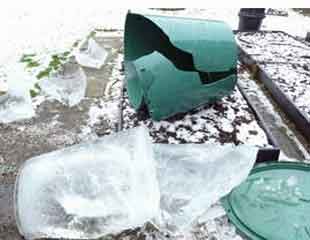 When a long spell of cold weather or freezing temperatures are expected it's a good idea to protect a water butt against the winter cold. When the temperatures drop the water inside the water butt expands as it freezes. The result is shown in the image left, the severe weather can split the plastic and the entire water-butt will fracture.
The photo shows the full extent of the problem which happened during a sustained cold period. Caught out by the sudden very cold weather the complete water-butt froze and fractured. An expensive oversight. To avoid this problem, before the bad weather strikes disconnect and drain the water butt, and leave it disconnected until the worst weather has passed. To freeze a large solid a mass of water requires a spell of sub-zero temperatures, which can be experienced in December & January with temperatures remaining below freezing for many days. Simply re connect the water butt in the early spring.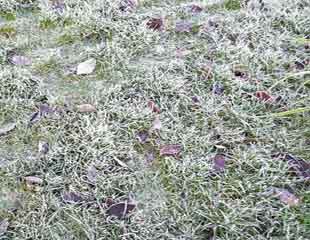 It is not a myth, it really is a good idea to keep off the lawn when it is frozen.
Ever wondered about the advice not to walk on the grass in snow and frost? It's true that walking on the frost frozen grass can cause damage to the grass. This is because when the grass is frozen the leaves are brittle, with a result that when the leaves are stepped on the grass is prone to snap and break. The image left shows flat bits where the grass has been walked on which will leave brown marks where the grass is damaged, and may look unsightly in the spring. Given how hard it is to create a decent lawn its worth resisting walking on it during the very cold weather.