10 Best Money Saving Sustainable Gardening tips
Gardening can be expensive and we all like a bargain.
On this page are some great tips on how to save money in your garden.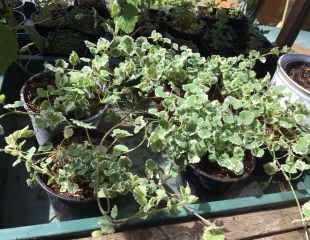 Sometimes when you buy a plant, the pot is full with roots reaching the bottom of the container. Retailers sometimes keep plants in pots longer than the price tag suggests.
If you get a plant which looks ready for repotting, think about dividing it instead. Just because you have purchased 3 plants doesn't mean you have three, you may have 6. You can safely divide the plant and have twice as many. Shown above are some Nepeta I purchased on line which arrived a decent size, eminently dividable.
The image shows the 3 plants after I have divided them to make 6 Nepeta for the price of 3.
You can do this with all sorts of plants, including perennials. You could even look in the garden centres for small plants which are filling up their containers and you have a bargain.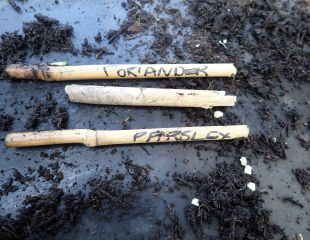 Plant labels are not cheap, but if you are raising plants from seed, or as plug plants, you really need to label the containers.
Lots of plant labels offered for sale are plastic, and ideally the less plastic the better.
An easy way to make your own is to use up Bamboo canes, and I split them into small pieces and often in half again. They can be reused, or composted after use, and it all makes for greener gardening.
You can also use off cuts from prunings if you are cutting back a shrub with light coloured bark this also works well and looks much more natural.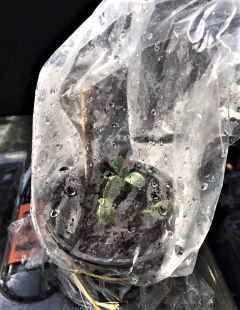 You can make a propagator for a few plants using just a polythene bag and an elastic band. This is an easy way to make a simple propagator and re use plastic so it's not single use.
Put the cutting or seeds into a small container. Insert a stick to keep the plastic bag upright and stop it from collapsing onto the seedling.
Cover the pot with a plastic bag and seal with a rubber band. The important thing is to make sure the seal is tight so air does not escape/or get in, and I find elastic bands are ideal for this. Sometimes you may find a plastic bag just the circumference of the container, and it will make a good seal.
Make your own Plant Spray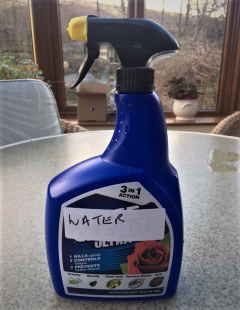 Whenever I buy a plant mister or spray, it always fails within 12 months or so. I've tried all sorts of different sprays, cheap and expensive. I now make my own.
They last at least as long, if not longer, and if it does fail, it has costs you nothing, and you have reused the plastic.
Take any spray bottle and wash it out very thoroughly and it's then ready water and spray your seedlings.
I label mine just to avoid drenching seedlings with Rose Clear.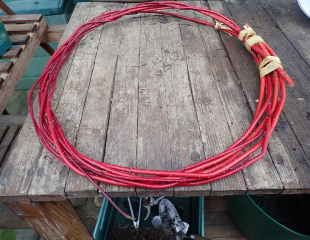 I am a big fan of home made plant supports.
Commercial metal plants supports are expensive, and although durable, they do not last indefinitely.
I keep virtually all prunings, from shrubs, coppicing Cornus, lifting the lower branches on fir trees, all make excellent plant support.
Cornus and supple cuttings are especially useful to make into rings and hoops. The more robust prunings make great stakes, and they will last for more than one season. More info on free plant supports.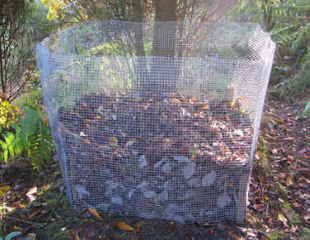 There is a lot written about home made compost and even more about commercial composters to buy. Truth is, as I gallantly heard one of the GQT panellists admit recently, making compost is not that easy.
Making leaf mould is, and it makes excellent organic matter to improve soil, and sifted is great potting compost.
No need to shell out for a bin, just wrap chicken wire around 4 stakes and fill it up. Many gardens have plenty of leaves in the Autumn and this is a free garden resource easier than compost.
Good quality, peat free compost is expensive, and we need a lot throughout the growing season.
Perceived garden wisdom is to use fresh compost and plenty of it and not to reuse.
I re use compost all the time, otherwise it would cost too much.
If you are planting spring flowering bulbs you can re use old compost. Bulbs are a complete unit and do not need the added nutrients of fresh compost.
Frost threatens tender plants, and you can be caught by surprise. Here I had planted quite a large area in the veg plot, and I needed to protect it, temporarily.
Using canes and re using bubble wrap, this makes a good temporary cloche.
This will not withstand winter weather, it's a quick fix if frost strikes. When I made this it in fact snowed and whilst it did hold up, it would not have withstood protracted bad weather.
But it is ideal and easy to make if you just need a bit of extra cover.
Page last updated 24.10.2022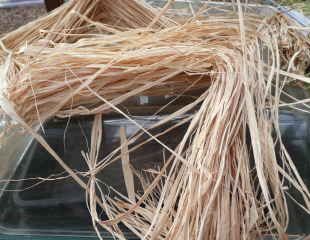 Raffia makes excellent plant ties and its very cheap and found in most garden centres.
It looks unintrusive on the plants and is biodegradable .