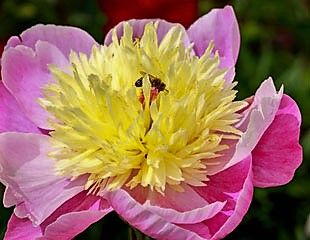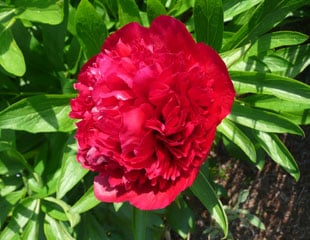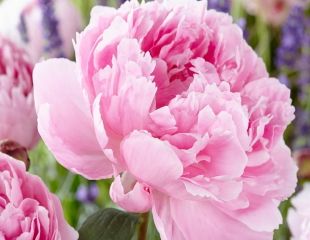 Peonies are a clump forming herbaceous perennial grown for their fabulous showy flowers. The most commonly grown Peonies flower in early summer and have large saucer like flowers, some with multiple ruffled petals and a central boss sometimes contrasting in white or yellow. Many peonies are scented and have multiple flower blooms with strong colours. In many ways, Peony are an ideal border plant.
There is a slight downside to growing Peony. Compared to many plants, their flowering period is relatively short, especially if we are unlucky to have poor weather because the large blooms, which are their very attraction, do not fare well in heavy rain or winds. In addition, Peonies need some attention requiring staking in early spring. This is a task I often leave until a bit too late, as a result it then becomes a nerve-racking task of trying to thread leaves and flower stalks into the plant support without breaking anything. Peonies only flower the once, so if a flower head is snapped, it will not flower again.
I have labelled them amber wheel barrow showing medium effort and maintenance. Peony are not fool-proof, but they return reliably every year.
At the end of the season, the foliage can look unsightly and it is best to cut it down. As a herbaceous perennial Peonies die right back to bare earth in the winter; the emerging spring growth is attractive, see image below right.
It is said that Peonies dislike to be moved but I don't know how true this is as I have moved them easily and successfully, maybe I have just been lucky.
The best way to move a Peony is early in the season before the plant has developed too much leaf, and quickly, and with plenty of the existing soil attached to the roots to cause as little disturbance as possible. Dig up the plant and keeping it as intact as possible and transfer straight away, plant at soil level and water well, cross fingers.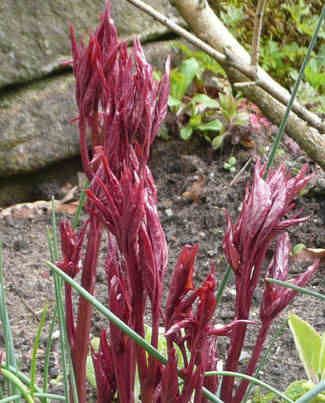 When selecting a Peony choosing one which has the RHS garden merit award is always a good guide. With the RHS award and illustrated above (centre) is the lovely showy red flower of a Peony officinalis 'Rubra Plena' . Also with the RHS award is 'Bowl of Beauty' which has lovely delicate pink petals with a dense centre of creamy white, illustrated left; P. 'Duchesse de Nemours' which has large fragrant white flowers; P. 'Sarah Bernhardt' lovely double rose like pink flowers which scented and illustrated above right ; and P. 'White wings' also scented, and as you can imagine white a single flower with yellow boss.
Crocus have over 15, excellent showy varieties of Peony for sale, including many mentioned here. Click here to link to Crocus Peony selection.
Peony flowers come in four shapes: a single flower head which has a large central boss; semi double, which is similar to a single but with more petals; double which has more petals, often ruffled, filling the centre and with no discernible boss; and the anemone form which has single or semi-double flowers with the centre filled with petaloids, such as in the 'Bowl of Beauty' which makes it very attractive.

Peonies are medium difficulty to grow, mainly because they do need to be staked to support the flower heads. They also need to be planted in the right place to start with as moving a Peony can be tricky.
Last updated 03.04.2022