Shrubs and Bushes
Growing shrubs in your garden borders has a lot of advantages. Many shrubs are easy to grow and low maintenance, with year round interest, and colour and scent.
Shrubs can add form and substance to a border. Herbaceous plants are like fireworks exploding into colour in the summer but then dying back to nothing, bare earth in the winter.
Shrubs, especially the evergreen varieties, give shape and interest when summer flowers have come and gone. Illustrated left is the lovely Choisya which has so much going for it; evergreen, easy to grow with strongly scented white flowers in the late spring early summer. Centre is Ceanothus easy to grow in a sheltered spot as it is a little tender in cold areas but rewards with lovely strong blue flower.
Finally illustrated on the right, Rhododendron which comes in many shapes sizes and colours and provided the soil is acid, very easy to grow.
There are links below to pages with lots of shrubs suitable for garden borders, shade, sun, evergreen lots of ideas for your garden.
Sometimes you may need a shrub to provide screening and cover; there are plenty of easy to grow fast growing evergreen shrubs.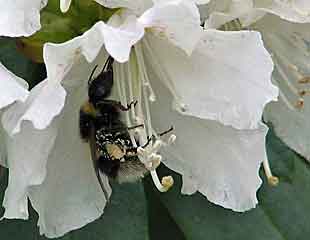 Summer flowering Shrubs can be both evergreen and deciduous providing lovely colour in the borders and easy to grow. Illustrated is Hydrangea a popular shrub which will tolerate partial shade also good summer shrubs Lavatera Lavender there are lots to choose from.
Autumn and Winter flowering shrubs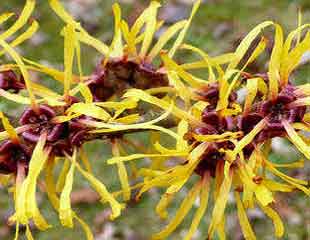 Some shrubs look especially good in the Autumn and Winter and there's lots to chose from. Illustrated is Hamamelis common name witch hazel, lovely scented flowers in the depths of winter.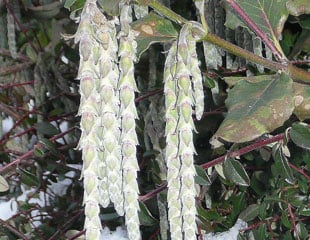 There are many excellent ever green shrubs which look good all year round. Ever green shrubs tend to be easy to grow an low maintenance, illustrated is Garrya elliptica