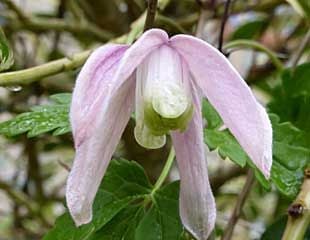 Plant summer bulbs, such as Dahlia and Lily
Pruning month: Roses, Buddleia, Cornus, Hydrangea and more
Plant snowdrops for next year's display
prepare the veg plot
Sow hardier seeds and half hardy annuals under glass
March the first month of spring and the garden is coming alive. March is all about the colour of spring bulbs. In flower are Crocus, Daffodils, scented Narcissus, Fritillaria meleagris (common name' Snakes Head Fritillary') and the delicate Erythronium.
Gardening calendars are only a guide because so much depends on the weather in March, sometimes it can be spring like, other times cold and frosty. The weather will affect the degree to which the soil has warmed up ready for planting.
Books and magazines are full of ideas for plants to buy and plant out in March, but in many parts of the country March can be a cold month with frosts, be wary of planting frost tender plants (check out 'frost tender') unless you have time, (and energy) to cover with fleece and cloches because one frost can do a lot of damage.
There are some warmer days, and with the increasing light levels means it is a good time to start sowing seeds for later in the year.
Ideas and tips on germinating from seed and also a video with advice on how to sow and germinate from seed successfully.
Tip of the month: As the soil warms up so do the slugs. Emerging are the delicate shoots of the herbaceous plants, such as Hosta, Delphinium and lupins which are just the tastiest snack for a slug. Start protecting the plants; tips on how to beat the slugs
The greenhouse is a good place to keep containers planted up, such as hanging baskets and containers, with bedding ready for later in the year. Growing them in the greenhouse for a few weeks helps to get the plants more established in the container before exposing them to the weather. Any veg and bedding plants grown in the greenhouse will need to be "hardened off", which means accustomed to the harsher outside weather gradually.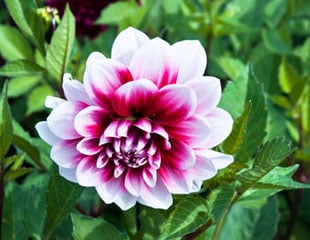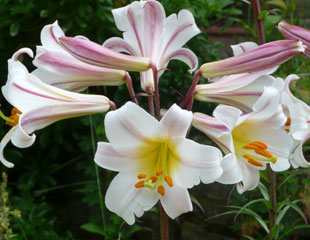 March and April is a good time to plant summer bulbs such as Dahlia and Lilies. If you have the right growing conditions Dahlias are a great showy garden plant. Dahlia do best when grown in well-drained soil, and in sheltered warmer conditions which means they tend to thrive and produce better blooms in Southern counties. Dahlias can be grown in more exposed areas but will need to be protected from frost and lifted before the winter.
It can be easier to get Dahlias established from plants, (although more expensive,) and if you buy tubers, you need to plant about 6 weeks before the last expected frosts. This is because Dahlias are not frost hardy (explanation of frost hardy) and the new top growth will be damaged by frost.
It takes about 6 weeks for the new growth to come through which is the reason for the time delay. If you get caught out, cloche them. If your growing conditions are not ideal, such as colder and wetter, it is better to start Dahlias in containers under glass and bring out to harden off in May. More tips about How to Grow Dahlias.
Lilies look fantastic in the summer border, the image above is Lilium Regale. Many Lilies are tall and often scented and good patio plants. March is the right time to get the bulbs going in pots which is much cheaper than buying plants later in the year. Pick a good-sized pot and fill with suitable compost, plant 3 bulbs per pot and cover with more compost.
Keep the bulbs in a sheltered spot or in the greenhouse until they are established. The pots are ideal for placing on the patio to enjoy the scent or filling up gaps in the borders. More about growing lilies and images of different types of Lilies.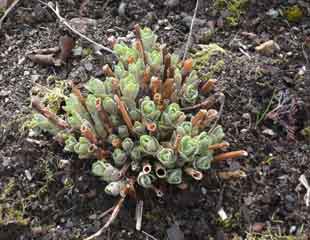 March is a good time to cut back perennials before the new growth gets too advanced which can make it difficult to cut back without damaging the new growth. In the image the Sedum has had all the old growth removed.
If you have left the old growth in place over the winter cut it back now before the spring brings on the new growth.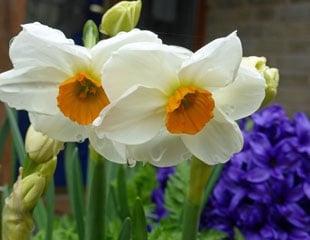 Assess spring bulbs and daffodils
This is a good time to assess the performance of spring bulbs, especially daffodils. If you have a clump of daffodils which are blind, that is to say without flower mark them with a stick for attention. Once the foliage is going over, lift the clump and check them. If they are congested plant back, having first separated the bulbs and plant further apart.
Another common cause of blind bulbs is if they are planted too shallow. Ensure when re planting the clump it is a least 3x the depth of the bulb.
The advantage of sowing annuals from seed is that you can buy a wide range of seeds and grow plants which you rarely see in the garden centre. The specialist seed catalogues have a fantastic range of seeds and its great fun to grow something unusual. An exotic annual to grow is Ipomoea also called Morning Glory which produces delicate and attractive trumpet-shaped flowers. More tips and advice on growing Ipomoea
March is a good time if you are thinking of growing sweet peas from seed now is the time to sow. Although they are quite a lot of time and effort, I cannot resist sweet peas and grow them every year. In March you can sow sweet peas under glass, or directly where they are to grow outside. Video how to Plant and grow sweet peas.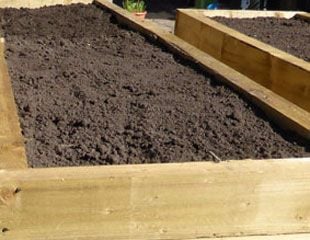 March is the month when planting gets under way and before planting it is worth spending time to improve the soil and raise yields. Most vegetables are hungry feeders and it's a good idea to enrich the soil with organic matter such as well rotted manure, chicken pellets, or compost. Digging the soil and mixing in organic material will break up the soil ensuring it is not compacted, and prepare it for the growing season. However, if it is very wet, or has been a wet winter it is more important to keep off the soil so it doesn't get compacted. Many crops such as salads and carrots like a fine soil and stones are a hindrance. Raking the plot to render the soil finer makes it easier to plant into and creates a better growing medium as in the image.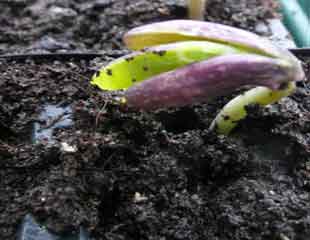 It matters not if you are growing your vegetables from seed or small veg plants, whether to plant out in the veg plot depends on the weather, and your plot.
The hardiest of the Bean family are Broad beans and they can be planted out first. In March, you can sow outside if the soil is warm enough but you will need to protect new growth from a heavy frost or snow by a fleece or cloche. An alternative if you have a conservatory, greenhouse, or cold frame is to sow seed and under glass so you have sturdy plants to put into the veg plot later in the Spring.
The same applies if you are buying small vegetable plants, they will need protection from the worst of the weather. Small plug plants are good value, but they are grown in parts of the garden centre which are protected from the weather and after purchasing you will need to so the same. All Beans like a long root run are best germinated into root trainers or loo rolls holders. Sow seed nearer the top of the holder so the roots can reach down. The same is true if you are sowing sweet peas. Beans need no attention whilst growing on other than to ensure light levels are good so that plants do not get spindly. Water carefully if in loo rolls holders, only in the centre, try not to water the cardboard holder as it will disintegrate.
Many vegetables can be sown from seed in March depending on the position of your plot and either grown on under glass or covered by cloches. The same is true of small vegetable plants which can be planted purchased and grown on in a greenhouse or under glass.
If your plot is exposed/subject to frosts and cold winds even with cloches and protection available, it is best to delay outside sowing of French beans, cucumbers and squashes until later April/May. You can sow these under glass and start off young plants but for outside sowing or planting out it is better to wait for later in the season.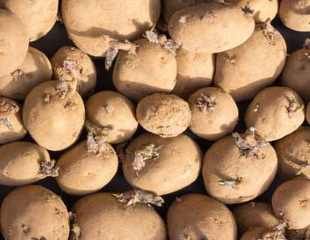 This month you can either carrying on Chitting potatoes, or plant early Potatoes. Potatoes are an easy, and rewarding crop to grow; for tips and advice. Potatoes can take up a lot of space in the veg plot. Potatoes are one of the vegetables which are ideally suited to growing in containers.
If you have a greenhouse, you can even start potatoes off in containers in the greenhouse and move out once all risk of frost has passed. Frost will damage the new potato shoots, called haulms. The time growing in the greenhouse will get the plants off to a good start.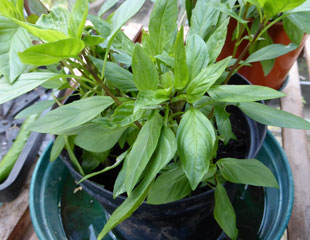 Indoors or in a greenhouse, March is also an opportunity to germinate herbs, such as Basil, Dill, Parsley, Chives and Coriander. Tender herbs such as Basil and Coriander will need to be kept warm and frost free until later in the year and are best not planted out until May.
Parsley should be seeded where it is to grow, whether that is in the veg plot or containers. It can be tricky to germinate and needs some warmth so early seeding can be slow. Parsley needs to be kept moist.
If you fancy growing something different, Thai Basil in the image is widely available. It is easy to grow and great in stir-frie. Start off under glass the same as Basil. It has a distinct aniseed flavour to the leaves.
Chives are hardy and will live in the garden all year round. In March you can see the shoots starting to grow again. There is also a variety of garlic chives, allium tuberosum, common name Chinese chives which has a mild garlic flavour. Like all chives it is easy to grow and and flowers white during the summer.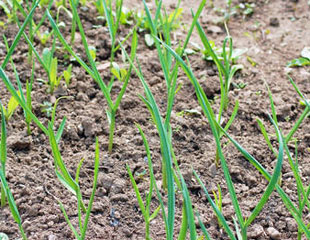 If you have started Garlic growing under glass it can be planted out in March if the conditions are right. Starting Garlic in the green house or under glass is ideal if your growing conditions are exposed, wet or with heavy soil. In these conditions you will need to delay planting for conditions, but you want a decent crop and if planting is delayed too long, the crop has less growing time. One solution is to start the bulbs off under glass and then transferred in March. Tips on how to grow garlic.