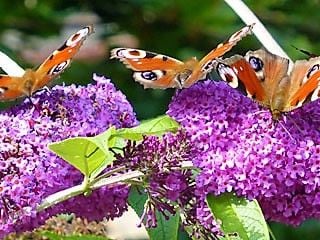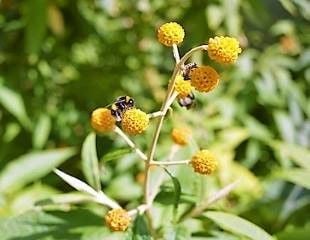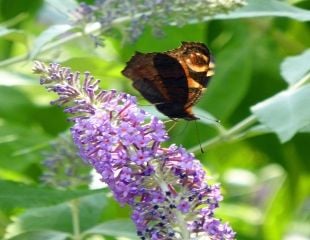 Buddleja is an easy to grow, summer flowering deciduous shrub. Although there are evergreen Buddleja, those found growing in the UK are three main types which are B. globosa, illustrated in the centre image, B.alternifolia illustrated right and B davidii illustrated left. The most commonly grown is B.davidii (image above left) which is deciduous. Buddleja davidii is fast growing and a large shrub, up to 5m with 5m spread, and best kept in check by pruning.
Buddleja has panicles of flowers, often scented, and which are attractive to insects and butterflies. Each panicle has hundreds of tiny flowers and the flower panicles are large so that a Buddleja in bloom is a showy sight. Buddleja is a butterfly magnet and in the summer can attract many butterflies, in the image left the single panicle has 3 butterflies on it. Buddleja is definitely one of the top 10 plants to grow to bring butterflies into the garden. An excellent combination is to plant Buddleja with Oregano and Sedum and create a butterfly paradise. B.davidii is fully hardy even for cold exposed areas and also for coastal gardens.
Growing and planting Buddleja
Hardy varieties of Buddleja grow and flower best in a sunny spot apart from which Buddleja has very few growing requirements, making it an easy to grow shrub.
Buddleja requires no real attention to survive, although it will grow well and look at its best if it has an annual prune. Buddleja are not fussy as to soil types, growing especially well on chalk and lime soil, and it is easily grown on poor soil.
There is a significant variety in the size of Buddleja; the popular 'Black Knight' spreads quickly and can reach 3 meters, and there are many species which are more compact, and dwarf and patio varieties been developed , such as B. 'Nanho Blue'. Check out the overall size of the shrub to make sure there is plenty of room to expand after planting.
Recently Buddleja has had bad press as being invasive, because it does self seed, and this can be a problem if your garden is near an area of natural beauty or conservation. If this is a concern, dead-head the flowers, which will prevent it from setting seed.

Buddleja are easy to grow and are tagged green wheelbarrow. They do require a little maintenance in terms of pruning back in late winter. This is outweighed by the fact that they are so easy to grow.

This denotes RHS award of garden merit always a good starting point when selecting a shrub or plant.
Buddleja has many attractive flowering colours all ranging around mauve, pink, purple and white and well-known varieties are: B 'Black Knight' which is dark purple, 'White profusion,' 'Harlequin' pink which also has variegated leaves, and 'Empire Blue'. All Buddleja davidii are fragrant. B Buddleja alternifolia, which is also deciduous, and has lovely scented lilac coloured flowers in early summer.
A good starting point is the RHS garden merit shrubs with the RHS awarded of garden merit logo.
Buddleia davidii Nanho White 'Monite' scented compact up to 1.5m
Buddleia davidii Nanho Purple 'Monum' around 2.smaller purple flowers
Buddleia davidii 'Black Knight' scented very dark purple up to 3m.
Buddleia davidii 'White Profusion' large up to 4m and scented
Buddleia davidii 'Royal Red' large up to 4m scented red flowers
Buddleia 'Pink Delight' up to 4 m smaller pink flowers
Buddleja davidii 'Darent Valley'
For a smaller garden, B. ' Sugar Plum' raised by Peter Moore it is a red variety which is compact, growing to around 1-1.5m (3-5ft). Peter Moore has bred many varieties and Longstock park Nursery near Stockbridge in Hampshire houses the national collection, definitely worth a visit during July and August when it will be full of flower, scent and butterflies.
Buddleja provides lovely later summer colour and looks well planted with other silver foliage plants such as Nepeta, Artemisia, also with tall grasses such as Stipa. There are some very compact Buddleja suitable for containers and patios such as such as B. Buzz, Blue Heaven, and B. morning mist. More compact varieties are being introduced to the market all the time, and the compact varies grow well as container plants.
Buddleja davidii will flower best if hard pruned in late winter or early spring, around late Feb/March time, and pruned to around 30-60cm down to woody framework, which also helps to check its overall size. It will look sparse when first pruned, but it is best to be bold and it will spring back into life and shoot up. Buddleja davidii should be pruned when the worst of the weather is over. Pruning Buddleja is not essential, the shrub will survive if not pruned, but pruning produces the best flowers and keeps it to size. If it is not pruned, over time it will get very large, and the flowers smaller and fewer.
The other common types of Buddleja, B. alternifolia and B. globosas are pruned differently because they flower on "old wood" . If pruned in the spring this would result in cutting of the stems carrying the flowers. These types of Buddleja are lightly pruned after flowering mid summer onwards.
For pruning purposes, the different types of Buddleja need to be distinguished. With B.alternifolia and globosa do not prune hard, just cut back the flowering stems, to keep to shape.
How to tell which Buddleja you have?
Except for b. globosa, the flowers on Buddlejas davidii and alternifolia are similar. The difference is that b. alternatifolia has alternate leaves, it is deciduous with a weeping shape and it flowers are light mauve appearing in late spring and early summer. The leaves have a silver tinge and it is less common than B. davidii.
B.davidii flowers later in the year, from August onwards, and flowers in many colours which include light mauve, but also many shades of purple, dark purple, red, and white. It is arching in habit as compared to weeping. If you are not sure which Buddleja you have in your garden, the flowering time is the best indicator.
B.davidii is considered by some to be invasive, so it is best to dead head flowers, which will promote more flowers, and also to prevent the shrub setting seed.
Page last updated 02.03.2023