Looking for late summer colour? Here are the best of the summer's late performers. There's plenty of colour still to come.
Dazzling Dahlia flowering all though Septemer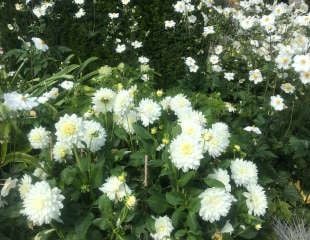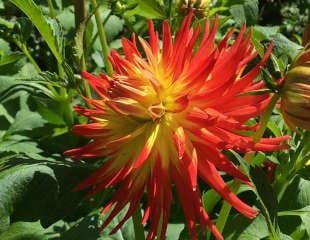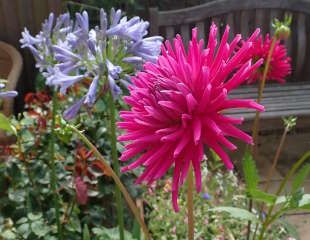 Dahlia are the star of the show for late summer colour. They start to flower around July and just keep on flowering, often until the first frosts and they make such a dazzling display. In all shapes, sizes and colours Dahlia provide a great summer show. Illustrated left with a blue Agapanthus, the Dahlia will be flowering for weeks after the Agapanthus has finished.
Find out more about Dahlia, their many flower forms and tips on how the grow them.
Hydrangea fading glory of summer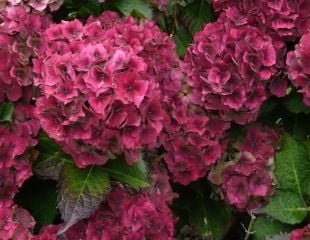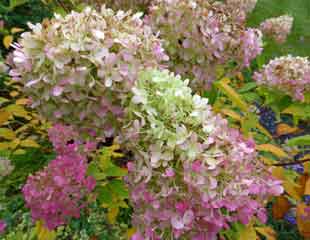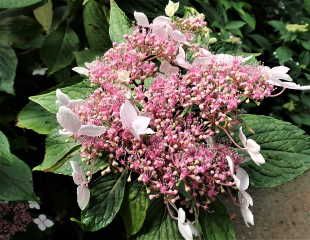 Hydrangea are great late performers and belong to the unique group of plants whose blooms look good as they fade. By September much of their flowering time is over and so the blooms are not as bright but they look so good as they fade. Illustrated left the ruby red blooms in their late colour hydrangea macrophyll. Center, the delicate fading blooms of hydrangea panticulata and left pink lacecap.
Enjoy a short nature video of butterflies feeding on Sedums
Relax and watch the butterflies enjoying Sedums in the late summer sun. When I say they are a magnet for bees butterflies and pollinators, this video proves it and why every garden should have a Sedum.