Even with careful successive sowing or planting, runner beans always seem to come in a glut during August and September.
I don't think of it as a glut, but a welcome harvest and you can freeze them, or cook with them. Runner beans freeze well and cook easily from frozen. This means you can enjoy your own organic runner beans well into late autumn and winter. They also have an affinity cooked with tomatoes, which coincidentally are also plentiful at this time solving two gluts in one go.
This is based on a Greek recipe called Fasolakia, which is a sort of tomato bean stew, and much nicer than it sounds. The Greek version uses a bean similar to French beans, but it works equally well with runner beans. You can make it with french beans, the method is exactly the same see images below.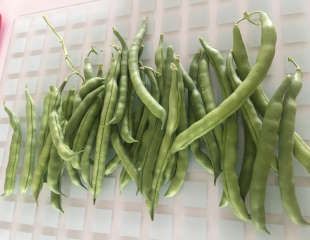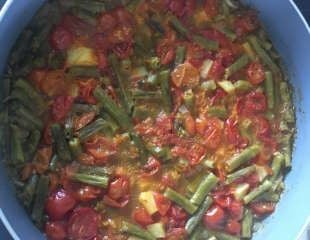 If you don't have any runner beans, you can make Fasolakia following the same method subsituting green or french beans. It works just as well, if not better and helps to make good use of another glut..
Kalí óreksi!
Freezing runner beans is quick and easy. There are two ways to freeze beans, with and without blanching them. When the beans are young, I think blanching them is unnecessary and risks overcooking them when you cook them post freezing. If the beans are young and sliced, freeze as they are, but as the season progresses, it can help to reduce their toughness to blanch them first.
The images below illustrate the necessary steps.
Pick all the runner beans of suitable size, wash and clean them and prepare them by removing any strings and slicing into suitable sizes. Before you cook the beans fill a bowl full of cold fresh water.
Have a large pan of slightly salted water on a rolling boil, add the runner beans and just blanch (i.e. cook) for 2 mins. Drain the beans, add the ice cubes to the bowl of cold fresh water and add the beans. Stir them to distribute the temperature, and when fully cold remove from pan and dry thoroughly.
The beans are now ready for freezing. They can be cooked from frozen and having already been blanched, the beans will only require a further 2-3 mins to be fully cooked.