However hard we try, there always seems to be a glut of tomatoes in September and, having grown and nurtured them, we want to make good use of them. Here are a few ideas.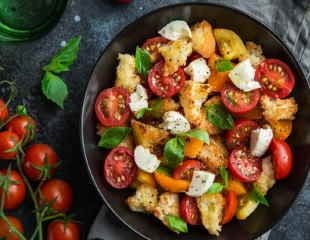 A traditional Italian dish from Tuscany Panzanella is a simple salad which combines ripe tomatoes with olive oil, bread and olives seasoned well.
It has just a few simple ingredients to make the basic salad to which buffalo mozzarella can be added to make a more substantial dish.
Serves 4 light lunch 2 as a main course
500+ grams of mixed ripe tomatoes
150 grams of stale bread, anything which is to hand.
50 mils + of olive oil
25 mil of white or red wine vinegar
garlic (optional)
seasoning and Basil leaves
T
Rip or cut the bread into small, crouton sized pieces. Heat the oven to 180/160 gas 4 drizzle the croutons with olive oil bake for around 10- 15mins depending on size of bread until nicely toasted and a golden brown.
Cut up tomatoes and place in a large bowl. Add olive oil, vinegar, seasoning and crushed garlic if using.
Mix up well, and just before serving, add croutons and basil.
Optional extras: capers, cheese such as Feta or buffalo mozzarella, black olives.
Greek dish, Fasolakia Giaxni
A great Greek dish, Fasolakia Giaxni, which is made with beans and tomatoes. In Greece it is often made with green beans and I have found it to be just as nice made with Runner Beans, using up two gluts at once.
It does well with oven baked chicken or salmon.
Alternatively, as a vegetarian option, add potatoes to make it a more substantial meal, a tin of butter beans and /or sprinkle with Feta to complete the Greek experience.
Cooking times vary depending on the age and tenderness of the beans. At the beginning of the season, when the beans are very young, they will cook and become tender quickly. Later in the season, the beans are usually larger and tougher, and can take twice as long to cook. This is a dish you can leave on the hob/oven simmering.
This dish will freeze well and keep for at least 3-4 months.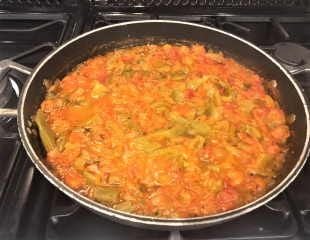 To serve 4
Olive oil
Red onion
2/3 cloves of garlic depending on your taste
500 gm of prepared runner beans cut into small pieces
500 gm tomatoes - any type will do although I find the smaller cherry type produce the best flavour - halved or smaller depending on size.
500 mills of good quality stock- veg stock or a good chicken stock gives the dish a depth of flavour
Dried oregano around 1-2 tablespoons depending on taste.
Saute the onions in olive oil until soft around 7-10 mins.
Add all the other ingredients, including seasoning to taste
Simmer on the hob for around 30mins until the beans are tender and the tomatoes broken down to a soft consistency. Towards the end of the growing season they often require a longer cooking period an extra 15-30+ mins, test for tenderness.
If the beans are particularly tough blanch for 5 mins before added to the dish.
You can also cook in the oven if preferred. It will need at least 1 hour on low 170C and again test beans for tenderness.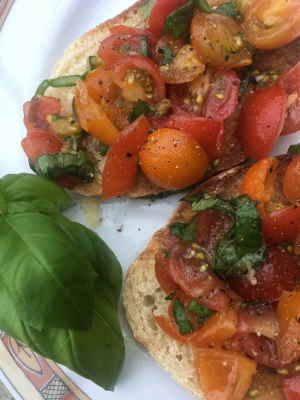 Italian Tomato Bruschetta
Bruschetta makes a lovely starter or light lunch, which is quick and easy to make.
The Italian version of tomatoes on toast, all olive oil and garlicky.
You can make it with almost any type of bread, which is broadly baguette style, light white and cuts easily into small circles or rounds. Sourdough is suitable as is Ciabatta.
Olives are optional. The mixture can be prepared in advance and left to marinate for an hour or so. Equally, it can be dished up straight the way as long as the tomatoes are not cold out of the fridge, warm out of the greenhouse is ideal.
200 gm ( or thereabouts) of ripe tomatoes mixed varieties and colours if possible.
Bread cut into rounds.
2 tablespoons of Olive oil.
splash/2 teaspoons Balsamic vinegar.
Handful of Basil.
1-2 cloves of garlic.
Seasoning.
Chop the tomatoes into small pieces similar to the image above. You can remove the seeds, but this is optional.
In a bowl, mix tomatoes, Olive oil, balsamic vinegar, crushed garlic, Basil and seasoning. The mixture should be moist but not too runny so that it will pile onto the bread easily. I leave this mixture to stand (upwards of 15mins-1hour (more if you need to prepare in advance) to allow the flavours to blend.
Lightly toast the bread.
Spread with tomato mixture and serve.
As an option, you can add a garnish of additional basil and chopped olives.