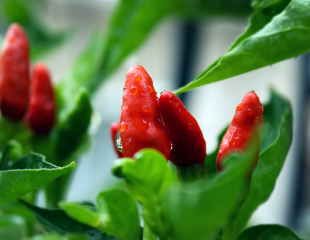 Growing Chillies key Points
Warmth is key to all growing stages.
Minimum temperatures to germinate from seed is at least 25C.
Water sparingly.
Pinch out main stem and early shoots to make the plant bushier.
Grow under glass or indoors unless in a sheltered warm garden.
Ideal container plants.
Chillies are easy to grow. Their primary requirement is warmth, particularly at the early stages. Chillies originate from the tropics, which is why they need warm conditions.
Chillies are ideal to grow in containers, and just a couple of plants will keep you well supplied. You can grow Chillies outside if you have plenty of sun and sheltered conditions. In less favourable conditions, and at the beginning/end of the growing season they are best under glass. Early in the year it will be too cold in an unheated greenhouse or poly tunnel for seeds or a young plant. Chillies are best kept indoors until the later in the summer and definitely do not plant out until the risk of frost has passed.
As soon as the plant start to flowers, this is a signal to start weekly feeding. Recommended is a feed high in potash such as tomato feed, which is ideal. Also, when the plant comes into flower, pinch out those early flowers so that the Chilli plant will throw out more shoots, bush and produce a better crop.
If the leaves of the Chilli plant turn yellow, or drop off, the likely cause is over-watering. The general rule is to water Chillies sparingly.
There is a gardening debate about whether you can over winter chilli plants. It is true to say, especially in northern climates, Chillies are best treated as an annual. Even if you persuade the Chilli plant through the winter, the ensuing plant will be less vigorous, if not feeble, and you may not get much by way of fruit.
Equally, for the cost of a chilli plant, you can compost it and buy another each year, or grow from seed, they are still great value cropping from one small chilli plant maybe 40+ chillies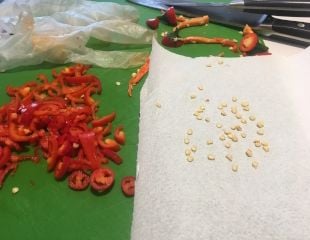 Chillies germinate easily from seed. You can buy from a huge range of seeds or save seeds from chilli at the end of the season as illustrated left. Just scrape out the seeds, dry them and keep dry and cool over winter.
To grow Chillies from seed, put one/two seeds into a single pot just below the surface. Sow Chillies shallow and sprinkle with minimal compost or vermiculite. Chillies can take some time to germinate, which if conditions are damp can encourage fungus. This risk can be reduced by covering the Chilli seeds with vermiculite, as opposed to compost.
The pot needs to be misted, and either covered with glass or put into a propagator. Leave to germinate, which should take up to 21 days. To germinate Chillies need a constant temperature of between 20-25 degrees which means germinating somewhere with a steady temperature.
It is important to know that Chillies need a long growing season. If you are growing them from seed, you will need to germinate early, and even earlier in the North of England (because of the shorter growing season,) from late January/early February onwards, provided you have somewhere warm to keep the plants.
If you are growing on a windowsill, rotate the pot daily to ensure even growth and avoid spindly seedlings
Chillies dislike root disturbance and they are best sown into modules and transferred into a pot with all the root ball and a little soil disturbance .
In colder areas grow Chillies in the greenhouse and even in sheltered spots only put outside when all risk of frost and chill have passed and the weather is warm.
During the early stages of the growing season, it is often necessary to repot into a larger pot. You can tell when a Chilli is plant is too large for the pot as it looks top heavy, (image top left). Another indicator is that when you look underneath at the bottom of the pot, tipping it carefully upside down, you can see the roots fighting to get out and straying out of the pot. Chillies do not like root disturbance, so pot on carefully keeping the root ball intact.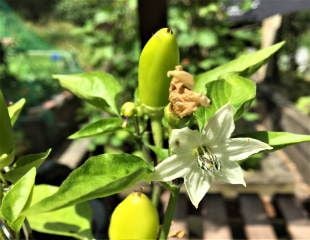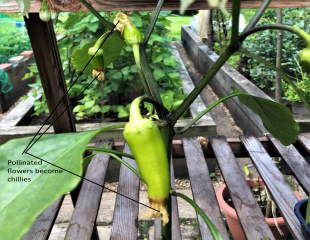 The image left shows the flowers on a young chilli plant and on the right the chillies forming from the spent flower. The good news is that chillies, unlike say tomatoes, are self pollinating, which means the plant will pollinate itself. This makes chillies easier to grow as there are fewer problems with a lack of pollination or pollinators, which can be a problem in cool summers for outside grown plants, such as courgettes. Another reason chillies are a green wheelbarrow plant.
Best chillies for containers
Most varieties of chilli will grow well in a container provided the growing conditions are correct.
In 2006 The RHS undertook a wide reaching trial of chillies including sweet and spicy chillies. Commonly grown varieties with the AGM include 'Demon Red' which is very hot, 'Hungarian Hot Wax' milder and very easy to grow, and 'Summer Heat' a Jalapeno type. The full list of varities which have the Award of Garden Merit as a result of the trial, full details on this link.
The RHS also undertook a trial of chillies to determind those most suitable to grow in containers. Suggestions are: 'Riot' a long thin chilli, moderately hot; 'Krakatoa' a thicker cone shaped red chilli hot; 'Spike' a thin, very hot chilli. These are all short compact chillies suitable for container growing in a warm spot bearing in mind chillies are H1 hardy which is 5-10 degrees.
There is a new trial being undertaken in 2023.
You do not need a garden to grow chillies. They are ideal to grow in containers, on windowsills and balconies, and make a great veg plant where space is limited. There is a range of vegetables which can be grown in containers, for more information about growing vegetables in containers.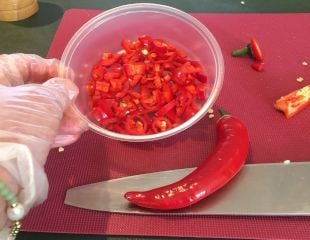 Chillies freeze really well. You can freeze them whole and defrost by rinsing a chilli under the hot tap. Sometimes they can be a bit mushy. This can be avoided by chopping the chillies and then freezing. You will then have a Gardener's Lazy Chilli as per the image on the left. Just take out what you need as and when.
You can also dry them and then crumble into flakes and store in a herb jar for use over the winter. Wash and dry them, slice in half and lay on baking tray. Place in oven on low setting around 80-100C checking regularly. The low setting is essential to stop the chillies charring. It will take several hours. In theory, you can dry them outside, but it rarely gets warm enough to properly dry them. You could also dehydrate them in an air fryer.
Page last updated 07.10.2023

Chillies are an easy to grow green wheelbarrow plant