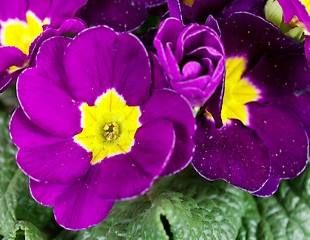 Primula are easy to grow perennial plants which come in many colours and shapes. Many people when thinking about Primula will bring to mind the popular Polyanthus types illustrated left, in addition to which there are many different types, shapes, sizes and colours of Primula and they are great garden plants.
Within the genus are the Polyanthus group (image left) is the most common, frequently sold online and in garden centres as winter and spring bedding. It is easy to think of these plants just as bedding, but there are some lovely perennial Primula which make great spring colour and early summer colour.
In the first image, top left, is the Primrose group which includes Primula vulgaris, the common primrose which is early flowering. The image centre is of the Candelabra varieties, P. beesiana which is a taller, later flowering Primula. Illustrated top right P. denticulata which as it's name suggests looks like a 'drumstick' and is a very popular Primula to mix with spring bulbs.
P. candelabra are deciduous which means they die back in the winter, but they do return reliably each year for a great spring display and often flower into early summer. The polyanthus and primrose groups tend to be evergreen, or semi-evergreen.
Primula vulgaris, the common primrose looks lovely in a natural setting such as on a bankside, and it will multiple over time. Some varieties of Primula vulgaris are scented and shade tolerant. Whilst many Primulas are low growing the popular Candelabra beesiana will grow up to 60cms and the variety 'Harlow Carr' image below left is tall and has mixed tones of oranges and pinks
The name Polyanthus describes hybrids of P. vulgaris (Primrose) and P. veris (Cowslip) and these plants are normally treated as bedding. Polyanthus are ideal for a spring display, but if you want perennial plants you need to consider the other types of Primulas.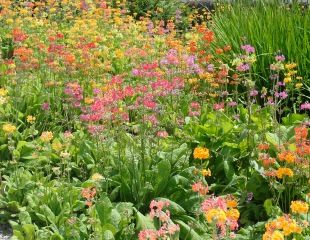 Primula like to grow in moist soil, and many of the Candelabra varieties are popular to grow by streams, in bog gardens and are also tolerant of semi shade. Illustrated here growing alongside a brook is one of my favourite Primulas, P. Candelabra 'Harlow-Carr' hybrids in lovely shades of orange, mauve, red mixing in with ferns and growing in the RHS Harlow Carr garden.
Primulas are bright and cheerful and just ideal for a spring border. It is easy to grow Primulas, simply plant in dappled shade in soil which tends to be damp and not prone to drying out. If you have a wet area of semi-shade the Candelabra group are just ideal.
Primula is a woodland plant, enjoying a position in semi-shade, and would benefit from a mulch of organic matter or leaf mould and be ideal growing conditions. Primula are tough plants and will do well in most spots as long as not too dry or baking hot sun. Sometimes the leaves on Primula can get a bit discoloured, brown at the edges and removing these will do no harm, (provided it is only a few not too many as the plant needs leaves for photosynthesis,) and also dead heading will help to keep the plant flowering.
The simple cowslip, Primula veris image bottom left, looks lovely in a natural setting and will colonise a bank forming clumps. It is a more a delicate, simpler version of the blousy cousins in the Primula family. Primula self seed near to the mother plant, and it is easy to dig up the little seedling and grow on or discard depending on requirements.
Primula look good planted on mass together, with spring flowering bulbs and also the later flowering varieties such as Candelabra are idea with Geraniums and Geum as shown in the image below right.
More ideas on spring flowers and also spring flowering combinations.