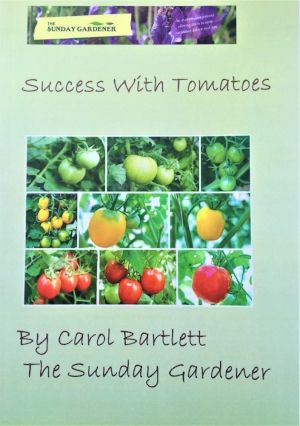 "Success with Tomatoes" The Complete and Concise Guide to Growing Tomatoes is a must-read for anyone who loves the taste of home grown tomatoes.
A step by step guide which covers everything you need to know from choosing the best varieties to grow, planting, caring and harvesting your crop. It also includes important advice on soil preparation, watering, fertilizing, pruning, and dealing with pests and diseases.
I have writtend the book in plain and easy-to-understand language avoiding jargon. There are 23 illustrations and 55 pages, short and clear.
If you want to grow delicious, healthy tomatoes, then "Success with Tomatoes" is the book for you. With its comprehensive and practical advice, you'll be well on your way to enjoying the fruits of your labour in no time. Order your copy today and to start your journey of tomato-growing success!
Was £6.20+ postage (UK Sales only) now £4.20 + postage
Read reviews and buy direct from the Sunday Gardener, see below
To purchase "Success with Tomatoes" click on the Pay Pal button and follow the instructions.
Your copy of "Success with Tomatoes" will be dispatched to you within 5 working days by first class post in fully recyclable packaging.
Reviews 28 reviews 4.4 rating.
Essential reading for anyone growing tomatoes
It's a brilliant little book. Easy to read and full of advice for anyone new to tomato growing and more experienced growers too.
There are useful illustrations and explanations too detailing how to set about growing tomatoes and how to best meet the needs of this plant. Would recommend it to anyone interested in growing their own.
Jeb 14.06.2021
Excellent book for beginners
"Very clear; easy to read and understand. Comprehensive explanations supported by many photographs. This moderately priced book provides all the information needed to successfully tackle every facet of growing tomatoes. Highly recommended.
10.12.2018
Best Advice
"Really clear and informative advice for growing tomatoes. I'd recommend this for any budding vegetable garden grower, it's helped me get organised for next year"
Pauline James 29.09.2017
Concise, straightforward and a must read!
"This was a really easy read and very helpful for especially for someone who needs a bit of extra guidance in the garden! I would recommend this book to anyone trying to grow tomatoes and in need of guidance through the process."
Mustafa Hasan 17.10.2018
Tomato Grower's Handbook
Handy for Tomato Growers
July 2020
Good Advice for Gardening Newcomers
"Great book for the novice gardener"
Wyn Davies 29.05.2019