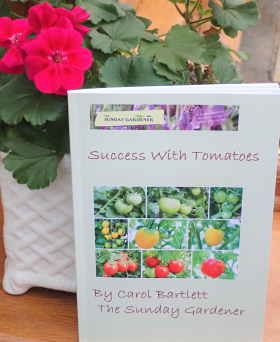 The Sunday Gardener's book is full of tips and practical advice.
"Success with tomatoes" is an informative guide containing all you need to know about growing a tasty crop of tomatoes. Each chapter covers a stage in tomato growing process, including how to propagate and grow tomatoes from seed, information about grafted plants and F1 seed, growing plants under glass and outside, in containers and grow bags. There are the all important tips about feeding and watering, together with troubleshooting, and tomatoes diseases including dealing with tomato blight. Each chapter has key points and a handy tomato growing checklist.
This handy guide comprises approximately 55 pages and 23 helpful illustrations. Available to purchase £6.20+ postage (UK Sales only)
For reviews and how to buy direct from the Sunday Gardener see below
Buy the Book and enjoy "Success With Tomatoes"
Reviews 22 reviews 4.5 rating.