Spring flowering shrubs
Spring flowering shrubs bring such a lot of colour into the garden early in the year, and some of the best displays come from Rhododendrons and Azalea. These come in all sizes and many colours, and are easy to grow provided you have acid soil, they need no real attention and have great showy blooms as illustrated right.
In the centre is Camellia Japonica, also very lovely, but not so easy to grow. It too likes acid soil but is much more fussy about it's growing conditions - more info. A real case of "right plant right place", camellia in the right place look fab, but if not quite right the blooms can be browned by frost and the foliage not as glossy green as illustrated.
Mahonia is a late flowering winter shrub compared to Rhododendrons which flower into early summer. One the best known garden favourite spring flowering shrubs is Philadelphus, a lovely creamy white shrub with scented blooms illustrated left. There are some great spring flowering shrubs and sometimes it seems that the most of the attractive flowering shrubs, with the showiest blooms, are often deciduous. This means in winter the deciduous shrubs will be bare and so it is a good idea in a shrub garden to plant a mix of evergreens and deciduous shrubs to create all round interest.
All of the shrubs below are hardy in most gardens although some may need a more sheltered spot. Most of these shrubs are easy to grow and once established will flower reliably year after year, and for this reason form the mainstay of an easy to maintain garden.
If you have a shrub or plant in your garden and don't know what it is or how to look after it, why not e mail a photo to the Sunday Gardener for help
The Best Spring flowering Shrubs

Many rhododendrons have really strong flower colours, bright orange, red, mauve, and yellow. They are long flowering, attractive to bees and easy to grow provided your soil is acid. Spring flowering from March onward.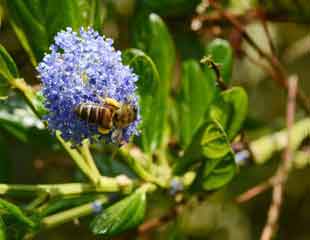 Ceanothus is a lovely blue flowering evergreen shrub which is easy to grow although needs a sheltered spot. It can grow quite large, and is an attractive shrub also liked by bees. Ceanothus flowers in mid to late spring.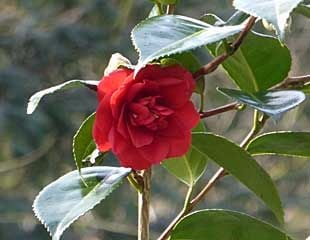 Camellia is an evergreen, spring flowering shrub with glossy leaves and large flowers in shades of red, pink, peach, white and cream. In the right conditions they do well- Camellias are hardy, but fussy - more information about growing conditions.

Some varieties of Daphne flower in late winter early spring and are often highly scented as illustrated is D. Odora. They tend to be reliable only in sheltered gardens not under -5, but where conditions are suitable Daphne are a beautiful scented shrub.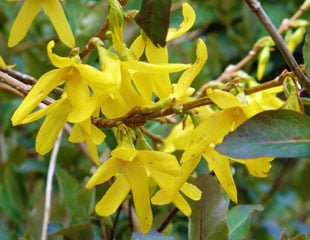 Forsythia is one of the earliest spring flowering shrubs and a garden favourite. Its flowers appear ahead of the leaves, (in botanical terms known as Precocious) and it is easy to grow. There is a less common white variety F. 'Roseum' which is slightly tender. Images and growing advice.

Escallonia are a lovely delicate spring flowering evergreen shrub but slightly tender. Easy to grow in the right area, Escallonia also make an attractive hedge and are are liked by bees. Some varieties are hardier check out growing tips.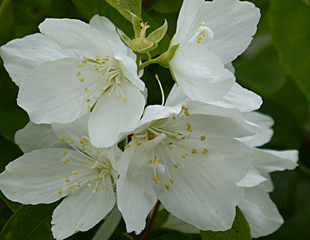 Philadelphus is also known as mock orange blossom because of it's lovely scented blooms. It is deciduous, flowering in the spring, shades of white and lovely scent. It is unfussy and easy to grow.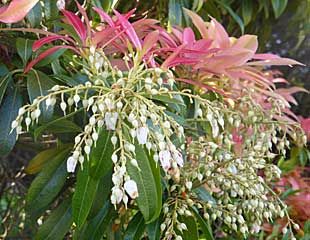 Pieris japonica an easy to grow evergreen shrub. I has strong spring colour with red leaves fading to green and multiple white flowers. Common name lily of the valley bush.