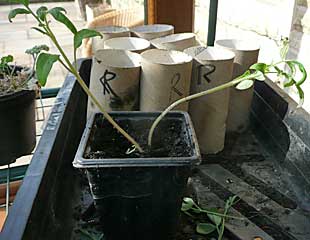 Using seed is an easy and cheap way to grow your own flowers and veg. If you are growing vegetables from seed, you can choose varieties you like and get a head start on the growing season.
To germinate and grow well, seeds need a controlled environment with as much light as possible. Light is as important as warmth and being in a frost free environment, which is why sowing early in the year is more difficult when light levels are low. If you sow in February/March, you will need somewhere frost free and warm for the seeds to grow on. An unheated greenhouse is likely to be too cold for the early seeds started in February.
It is a balance; sow too early and the seedlings may struggle and be leggy, so too late with some crops such as sweetcorn and tomatoes may just crop as Autumn arrives, especially if we have a bad summer or your garden is in an exposed area.
In the images below, seeds are being germinated in a propagator and the water droplets are visible which shows the atmosphere created which is ideal for germination. It is important to remove the seedlings from this atmosphere as this, or a lack of light, can cause seedlings to grow as in image 2 in the centre. This may not be fatal if it is not too bad. Re- pot on the seedling as in image 3 from which you can see much of the spindly stem has been buried, and it will grow on to be a sturdy tomato plant. Sink a good amount of the weedy stem into the compost and grow on.