You can plant and grow Garlic in autumn or spring but Garlic grows best when planted in the autumn. Autumn planted garden should have a period of 1-2 months of cold temperatures, 0-10C, which helps the bulb formation producing a better yield.
If you are growing garlic in soil which is wet over winter, autumn planting may not be ideal. Garlic bulbs may rot in cold wet soil. Either plant in containers or wait until the spring.
Commercially, a large amount of Garlic is grown in the Isle of Wight, and it is no coincidence that this is one of the sunniest places in the UK and it has very free draining soil. It follows you need to plant garlic in the sunniest spot in your garden.
Garlic is one of the easiest veg to grow, as are onions and shallots, and all suitable for growing in containers. Once harvested, Garlic will keep for months in suitable conditions so you can enjoy home-grown garlic all the year round.
Hardiness ,as you may expect, depends on the variety of garlic. Varieties referred to as Hardneck are the hardiest tolerant well below 0 degrees but it stores less well. Softneck garlic is less hardy but it will store well and easily all over winter. The least hardy is Elephant garlic.
Wild garlic is fully hardy and also easy to grow.
In part, it also depends where you are in the country. I have grown garlic in the North and Midlands and have not covered autumn planted garlic with any frost protection. Garlic is hardy in terms of an average English winter and only if very severe weather and snow conditions are forecast, would it be prudent to cover it. Remember that snow is heavy and fleece protection may weigh down on the plants, a cloche may be more effective.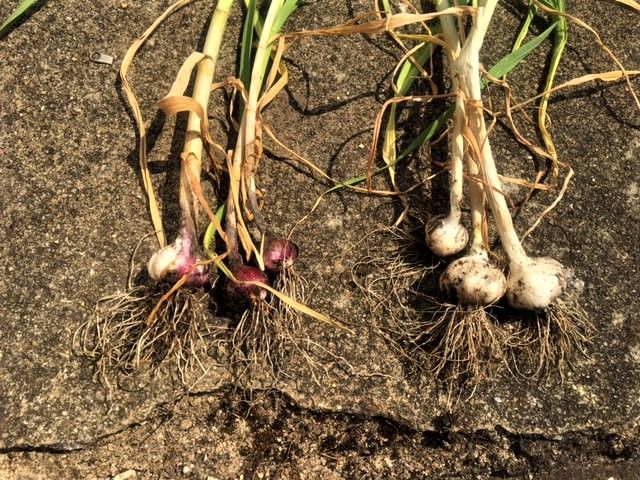 Garden wisdom recommends growing Garlic from certified bulbs, purchased online or at the garden centre, not from saved bulbs. This ensures the plants are disease free. Specific varieties of garlic are sold as suitable either for autumn or spring planting. If you are buying from a garden centre/on line you may find the RHS fruit and veg plant trial list helpful.
To keep costs down, last year I planted some certified bulbs and some supermarket bulbs and the image left shows the result. The white bulbs are an unspecified supermarket bulb and the red purchased from a garden centre.
Very similar results, if anything the supermarket is better. Next growing season, I will look for a large organic supermarket bulb to plant. The one thing you need to be aware of is that garlic sold by food retailers is almost always softneck, but even so it should easily withstand an English winter.

Garlic is easy to grow and tolerant of most soil conditions - definitely a green wheelbarrow plant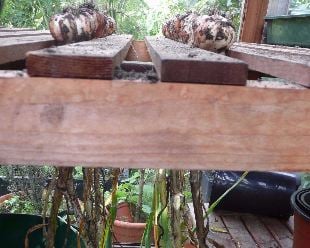 Garlic, once lifted, must be thoroughly dried somewhere warm and dry before storing, which is really important. If the bulbs are not completely dry, there is a risk the dampness will rot the bulbs and others stored around it. Like onions harvested on a dry day and leave on the warm soil to dry.
Given our summers, this traditional ways of harvesting can be difficult to accommodate. Alternatively, if you have a greenhouse, dry upside down on the slats, (see image left) or place in netting in a shed, or lie on newspaper on a sunny windowsill or conservatory. When the garlic has throughly dried, knock off any remaining soil and store somewhere cool and light, again in a conservatory, garage or porch.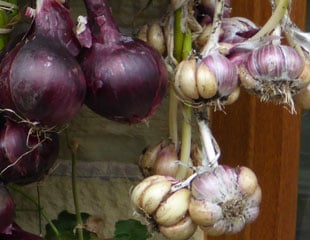 The dried top growth can be platted to make an onion/garlic string. If the top growth is not as robust as would be ideal for platting, you can weave in some raffia to supplement it.
Although Garlic plaits look nice in the kitchen, it's not the ideal storage place, (being too warm and humid) it's best to just bring in a few bulbs at a time and store the rest of the garlic elsewhere in the cool.
Page last updated 23.11.2023