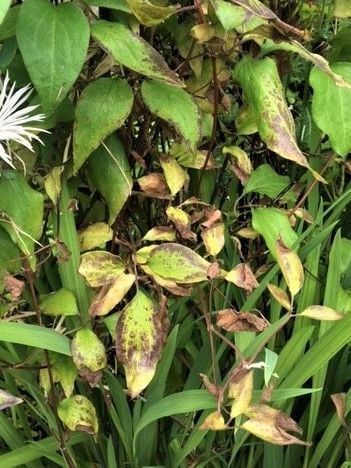 If you grow Clematis, at some point you will encounter Clematis Wilt.
What happens when Clematis Wilt strikes is fairly dramatic, and almost overnight the all or parts of the plant will go brown, and it can collapse.
The plant will look as if it is very dry, all brown and droopy, but in fact it is the dreaded wilt. The general view is that Clematis wilt is caused by a fungus ( Calophoma clematidina [syn Phoma clematidina, Ascochyta clematidina]). It is also true to say that scientists are not 100% sure that this is the cause, as Clematis wilt also seems to occur where there is no evidence of fungus.
In the image wilt has attacked part of the plant but not totally effected it and some flowers are present but the plant looks shabby. Clematis wilt may or may not affect the plant the following year, more often and not if the weather conditions are different the wilt may not appear the next year. There may even be healthy shoots at the base of the plant if the wilt is not too widespread.
In these cases it is usually environmental causes which include how the Clematis has been planted, and it's growing environment, see below.
Whatever causes Clematis Wilt what to do about it?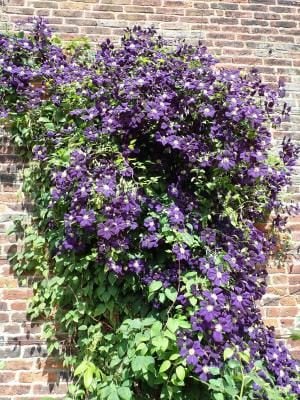 It is very disheartening when wilt strikes. Often the Clematis is about to get into full swing with lots of buds and then starts to wilt. The good news is that it will recover, but you do have to be bold and remove all infected parts.
Perceived garden wisdom is not to plant Clematis near a wall. Given that Clematis like it cooler, with moist shady roots, growing up a wall is a not dry area. This image shows how fickle Clematis and gardening advice can be. Illustrated is a C. Jackmanii which is planted and growing up a wall with no signs of wilt. Any plant growing next to a wall will be a dry area, with a rain shadow and yet this mature Clematis looks splendid. So if your heart's desire is to have a lovely, large flowered clematis growing up a wall, and it has to be a late flowering variety, take a chance you may get lucky.
Even if you follow these recommendations, it is difficult to stop Clematis wilt, and sometimes it seems pretty random.