Welcome to the Sunday Gardener
June is the beginning of summer and the garden is getting into full swing. There is so much to enjoy, Clematis and Roses in flower, Hostas looking fresh, ferns unfurled and everything is blossoming.
There is plenty to do in the garden in June, and busiest of all are the bees. The very sunny dry May we have enjoyed has also been good for the garden. With all the extra sunshine this year promises the showiest for flowers so why not take time out to enjoy, and relax, in a comfortable chair with a nice cup of tea.




Clematis 'Piilu' is a long flowering very pretty Clematis which is ideal for growing in containers, because of it's compact habit. Most clematis are fairly vigorous and so not ideal in smaller spots or containers. It is a group 2 for pruning. There is lots of information about growing and pruning Clematis, types of Clematis and video advice.
It is warm enough now to plant out even the more tender of vegetables such as French beans. These mixed beans look really good and tasty too. French beans are easy to grow and if you lack space there are many good dwarf varieties. (image T & M)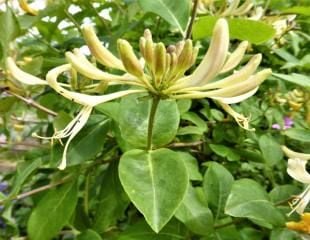 Honeysuckle has a lovely perfume, especially on a warm summer evening. If you are thinking of growing Honeysuckle check the variety before you buy, not all are so scented. Honeysuckle likes to grow with its roots in the shade and head in the sun, and in these conditions will grow well. Another plant which likes the same conditions is Clematis and they combine well together .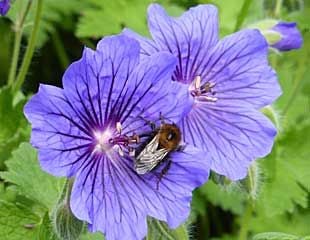 It is hard to beat Geraniums for easy to grow, long lasting flowers many of which are also attractive to the bees. They mix really well in the border, and as we know bees love blue. But there is more to Geraniums than blue, many other colours such as pink, white, cream, magenta with lovely veined leaves and in all sized from compact to around .5 meter.