Welcome to the Sunday Gardener
There is more birdsong in the air and catkins on the trees, spring is not so far away.
February is still a cold month with the average daytime temperatures 8 degrees, and only 1 degree at night. It's a short month and short on sunshine with only just over 2.5 hours per day on average.
This can make seed germination this early very tricky because of low light and temperatures. Its tempting to get started but sometimes better to wait until March.




Clematis armandii is a lovely sweetly scented late winter/early spring flowering Clematis. It needs precise conditions to do well, principally a sheltered , sunny spot away from cold winds, but is just one of the best Clematis to grow if it suits your garden. Tips on growing Clematis and types of Clematis.
If your veg plot or greenhouse benefits from shelter, and you are in the southern half of the country, it is possible to make an early sowing of broad beans, the hardiest of the bean family. Sow in the veg plot under a cloche or in the greenhouse, broad beans are easy to grow.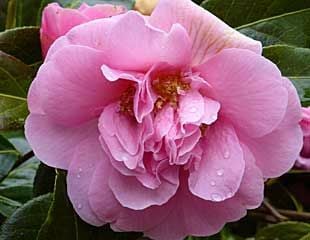 In flower in February, March and April depending on the varieties are Camellia. A lovely evergreen shrub with glossy leaves grown for its showy flowers in all shades of pinks, red, whites cream yellows and some with multi coloured blooms. Camellia are particular about their growing conditions- best tips on growing Camellia.

Home made flowers are just the best, fresh no air miles and original. A few stems of Daphne odora 'Aureomarginata' will perfume a whole room with sweet scent and look just as good.
Tips on how to grow Daphnes