Welcome to the Sunday Gardener
May brings warmer weather and everything in the garden is starting to grow and shoot up. As soon as the soil warms up it is possible to plant outside and to sow seed direct into the garden and veg plot.
Even in May the weather can be fickle and the risk of frost remains in some parts of the country. Where frost can occur, mostly North of Birmingham it is best to wait until the end of the month before planting out any tender plants or summer bedding
There is lots to do and plant in the garden
in May. Ideas and tips
to get your garden off the a good gardening start.




Clematis montana is one of the easiest Clematis to grow. It is very vigorous which means it will cover a large wall, fence or romp up a tree within a few seasons. It also requires no pruning, which are all good plus points. Clematis montana flowering colour ranges from creamy white, tinged pink through to soft pink flowers. There are many to chose from, over 19 varieties listed on one on line retailer many of which are scented.
April is a good time to either seed tomatoes, or buy plants from the garden centers ready to grow on in the greenhouse or under glass.
The easiest tomatoes to grow, especially if you do not have ideal conditions are the smaller cherry types. Tomatoes need a good bit of time and attention; advise and tips on growing tomatoes and a comprehensive guide to "Success with Tomatoes"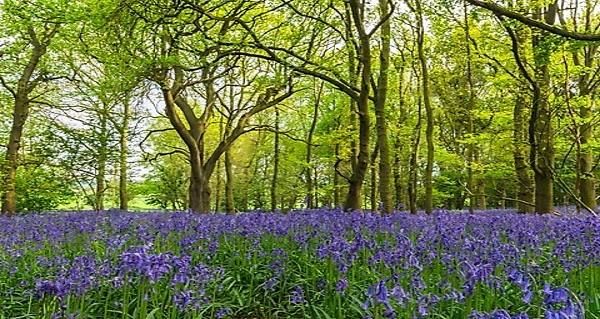 May is always Bluebell time. There are lots of
blue bell gardens to visit
and lovely
woodlands
to walk in and enjoy the sight and fragrance of bluebells. You don't have to travel far to find a bank or hillside which has been carpeted in bluebells.
If you are inspired to plant some bluebells in your garden be aware that they are vigorous and keep away from the Spanish impostors. Tips on growing bluebells and how to tell the difference between English and Spanish bluebells.