On this page are ideas and images to create garden hedges. The focus of the shrubs selected here is twofold: to the benefit wildlife and for shrubs which have health benefits in combating the effects of pollution. In the images above the shrubs all look nice, but only one is good for bees and pollution absorption, that in the centre image, namely Cotoneaster.
I recommend below shrubs which are rated either as wildlife friendly, or to trap pollutants and some for both.
We are aware of the adverse effects of car pollution on health. If you are living near a major road, or a road which has become busier and car pollution concerns you, there are steps you can take to ameliorate the effects. We have long known the benefit of trees and know scientists have discovered that hedges can help improve air quality alongside urban roads.
Trees do absorb pollutants, but hedges are physically lower, growing as they do at car and traffic level. Research by the University of Sussex and from the RHS, has also determined which hedges are best at absorbing pollutants. Certain shrubs, predominantly those with larger leaves, rough or hairy leaves, trap the most pollutants. Ideally to be most effective, the hedge needs to be 1.5-2m high and a density of 1m.
Recommended shrubs to plant for the purpose of absorbing pollutants by creating a green barrier include : Cotoneaster, Hawthorn, Cupressus macrocarpa, Elaeagnus x ebbingei, Common Beech, English Yew, and Viburnum Tinus. These are both evergreen and deciduous shrubs and would make an attractive mixed hedge or a simple line of Common Beech, (Fagus sylvatica) can look very stylish and help to soak up pollutants. There are more illustrated below.
Mix and match the shrubs below to make a varied and interesting hedge which is colourful, interesting to the birds and will help clean up the air around your home.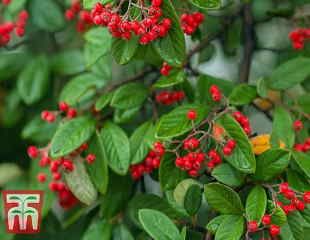 The RHS has undertaken significant research into the beneficial effects of shrubs and plants in urban gardens, which include absorbing pollution, buffering road-noise, and aesthetics of an attractive front garden.
Enter Cotoneaster franchetii a "super-plant" a sort of broccoli of the shrub world. Further research by the RHS shows of all shrub choices C. franchetii is the top-rated to improve air conditions because of its superpowers in trapping airborne particles. Its dense canopy and rough hairy leaves are key to improving air quality. The RHS has established that C.franchetti will trap 20% more emissions than other hedges they tested. It is thought that 1m length of dense hedge will mop up in a week the emissions equivalent to those produced by a car travelling 500 miles. It is available to purchase from Thompson & Morgan via this affiliate link.