Pelargoniums are non hardy garden plants often planted out as summer bedding. Commonly referred to as Geraniums, they are in fact different to the Hardy Geranium. Pelargoniums mostly originate from South Africa, and ideal growing conditions are dry, hot and sunny.
Whilst we often see just a few in the garden centres, there are in fact 6 distinct types of Pelargonium. Angel, Ivy-leaved, Regal, Scented-leaved, Unique and Zonal. The Scented-leaved varieties are interesting, when the leaves are rubbed they emit a scent. There are many scents such as apple, cinnamon, citrus, lemon, lime, eucalyptus, ginger having really pungent leaves. Ivy leaved Pelargoniums tend to trail, Zonal are upright with attractive leaf markings, Angel and Regal are also upright varieties.
All Pelargoniums flower best in a really sunny spot, and will tolerate dry conditions bordering on drought should it arise. Pelargoniums should not be planted out until all risk of frost has passed, which will be mid to late May depending where in the country you garden.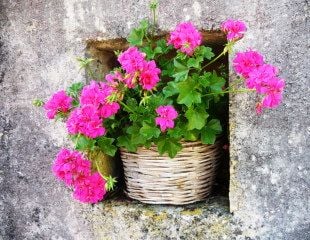 Pelargoniums are both stylish and easy to grow, drought tolerant and they do not produce the mass of dead heading required by some summer bedding plants.
The best Pelargoniums are not cheap, which makes it a good idea to overwinter the plants. Next year you have a free plant, which will be more mature.
Around Europe, we often see large Pelargoniums trailing from balconies and in containers. We can grow pelargoniums to a mature size in the UK if kept going year after year rather than thrown away as bedding at the end of the summer.