In many ways Clematis are easy to grow because they are a vigorous climber, and most are fully hardy ,tolerant of many soil types and conditions.
What makes Clematis a little tricky to grow is that Clematis need regular annual pruning apart from Group 1. That can be a problem to know if your Clematis is group 1,2 or 3 which determines its pruning requirements. All Clematis in groups 2 & 3, to maintain shape and flowers, need pruning every year. This makes Clematis an "amber wheel barrow plant" showing medium difficulty to grow. In addition, for newly planted young plants and at the beginning of the growing season, the spring growth is attractive to slugs and Clematis need protection. Tips on how best to protect Clematis from slugs. Lastly, Clematis can be subject to a disease called Clematis wilt, by which the leaves turn brown and look unsightly.
On the positive side, Clematis is a lovely climbing plant with a wide range of flower shapes, sizes, colours and flowering times. The Pinterest page and Types of Clematis illustrate the many diverse shapes and sizes of Clematis, with new varieties being introduced every year.
The easiest Clematis to grow, because they need little or no pruning are Clematis montana, C. alpina and C. macropetala. One of the loveliest varieties, Clematis montana 'Elizabeth' has a beautiful vanilla scent. Of all the Clematis, when planting a Clematis montana you need a large space as many varieties are vigorous growing up to 15m (nearly 50ft) if left unchecked and growing in ideal conditions. However, there are now varieties of Clematis montana which are less vigorous and manageable in the average sized garden- check out Types of Clematis for more information.
The different varieties of Clematis have a long flowering season, staring early in the year with the C. alpina right through to September the late flowering C. Tangutica, and over winter C. Cirrhosa. Clematis like well-drained soil with sun or light shade. There are some Clematis varieties which are more shade tolerant listed below.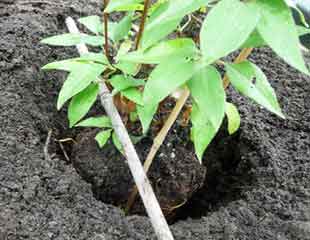 Clematis can be planted at any time of the year except during spells of poor weather or when it is frosty. To give Clematis a good start, plant Clematis during Spring, Summer or Autumn selecting a good weather spell and rain after planting is helpful, providing it is not a mini monsoon. This often means planting Clematis from April onwards.
The golden rule when planting a Clematis is to make sure that the root ball sits at least 5cms below the soil level - see image left. This is beneficial to the plant and helps to stop Clematis wilt. Dig a hole comfortably larger than the pot the Clematis is in. Make sure the soil at the bottom of the hole is not compacted, making it easy for the roots to grow into. Add peat free compost, fertiliser and water. Ease the Clematis out and place in the hole.
The easiest way to make sure you have got the depth correct, and to judge the depth, is to lay a bamboo cane across the hole so you can see the line of the soil depth and check the Clematis is at least 5cms below the soil level. Fill in, water and protect young growth from slugs. Clematis do well if their roots are shaded whilst the rest of the plant prefers sun, not an easy combination.
You can protect and shade the roots by the leaves of adjacent plants, such as a large leaf Hosta or by a physical barrier such as a slate, plus mulch will help to keep the roots cooler. In common with all new plants, Clematis should be watered well after planting. A newly planted Clematis will benefit from cutting all shoots down to 15 -30cms the first year only. Watch the Sunday Gardener video How to plant Clematis.
If you want to plant Clematis in a container, it is best to choose one of the less vigorous varieties. There are a wide range of smaller Clematis on sale, including those described as "Patio Clematis" which are ideal for containers. It follows that the large, very vigorous growers such as C. montana are not really suitable for growing in containers.
All newly planted Clematis are pruned in the same way which is designed to make the immature plant produce several stems. Check it when you buy it, and if the plant already has multiple, that is 3-5 stems, growing from the base it does not need pruning it's already in good shape. This is often the presentation of a more mature plant where the nursery has done the formative pruning.
If the new clematis is a single stem, prune it back hard the first spring to a pair of buds around 30cms from the ground. Within a short period it will throw out new shoots which can be trained into shape. After the first year prune according to its group.