What to do in the garden in January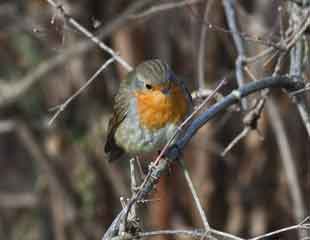 January is a another quiet month in the garden with not so much to do in the garden. On mild days it's good to try a bit of weeding; after the rain and frost time to the ground seems to yield the weeds more easily. It is cold and frosty for the birds as well so its a good time to look after the wildlife . In addition to putting food out, birdbaths can easily freeze over which deprives the birds of a much-needed source of water. Shrubs with berries are really important for the birds, and by this time of year often the birds have all but eaten all the available berries which makes a regular top up of the bird feeders essential to the survival of as many birds as possible through the winter months.
I think gardening in January is best done in doors, planning, seed catalogues and thinking rather than doing.
And on bad weather days, of which there are always plenty in January, its armchair gardening with the seed catalogues planning for the spring and deciding which new veg to try.
Easy to grow winter flowering shrubs and plants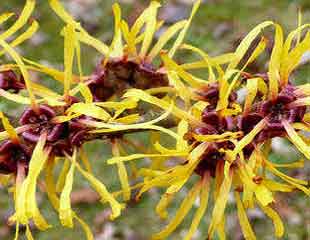 For winter colour there are plenty of shrubs to brighten up the garden at this time of year which require little or no attention. Hamamelis common name Witch Hazel is a shrub/or small tree which bears scented flowers at this time of year. It has does have some growing requirements but in the right garden looks spectacular; for details and advice on growing Hamamelis

It is hard to beat Hellebores for colour and interest in late winter and early spring. Hellebores are late winter and early spring flowering perennials which come up reliably each year and form large clumps as they mature. Hellebores are easy to grow and will tolerate partial shade. Advice on growing Hellebores and images to inspire you to grow a few in your garden.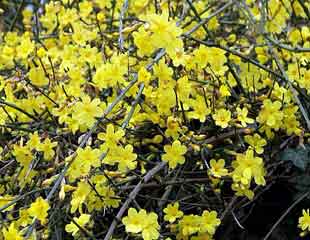 Winter flowering Jasmine an easy to grow climbing plant which flowers from November to March and is tolerant of all soils including dry areas. Jasmine nudiflorum needs very little attention and growing is easy although not scented.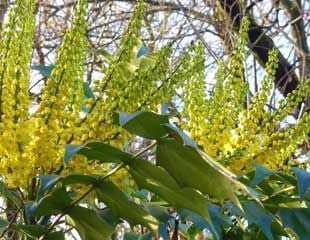 Compared with Hamamelis, above, Mahonia is an easy to grow tough winter flowering shrub and some varieties, such as M x media 'Charity' have scented blooms. A large shrub with sharp thorns and care should be taken where to plant it; equally it makes a good security boundary hedge because of its thorny characteristics.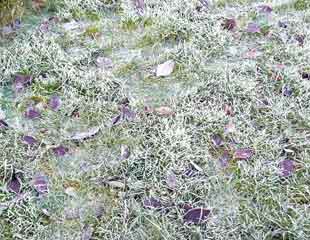 Protect lawns because it's true that walking on the frost frozen grass really does cause damage. When frozen, the blades of grass become brittle, and will not yield to pressure, and so will snap and break when trodden on in frosty conditions.
The image left shows where the grass has been walked on and it will not recover easily. This will leave brown marks where the grass is damaged, which looks unsightly in the spring and the damage will make that patch more susceptible to disease.
Given how hard it is to create a decent lawn its worth resisting walking on it during the very cold weather
Advice on lawn Care

Deal with Hellebore blackspot
If you have black spot on the Hellebores, which looks like the image, remove the diseased leaves.
This time of year hellebore leaves can be removed to show off the flowers and to reduce infection.
It may seem a bit dramatic but you really can remove many of the leaves from the Hellebore without it suffering at all and some professional growers remove the leaves to better display the flowers.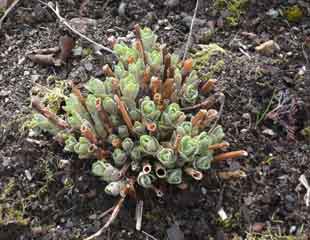 Winter weeding
It's a good time to weed and continue the garden clear up ready for the spring. Many plants have died back which makes it easier to see the perennial weeds. There are fewer worries about standing on tender shoots coming through as compared to weeding in the spring. The frost loosens the soil the weeds give up more easily. Cut back Rugosa roses in a mild spell pruning close to the ground and take out any weak spindly stems. The tops of Sedums can be cut off revealing the shoots of the new plants. Sedums are great garden plant about growing Sedums .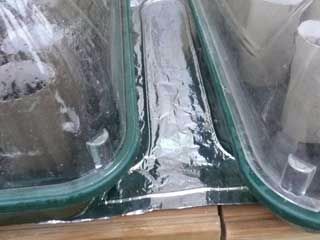 It is possible to start some early sowing, lettuce, tomatoes, peppers and leeks in January but tempting thought it is, early sowings can cause problems. Firstly , just ending up with too many small plants which need space to grow on. If you are really keen and want to start sowing now Hardy Lettuce would be a good starting point which will need to be germinated with some warmth in a heated propagator and then transferred under glass. The seedlings should be OK in the greenhouse unless it is very cold when cover with a fleece. A heated propagator mat is really good if you want to get seedlings going early. In the average conservatory/greenhouse it is too cold to germinate and this aluminium mat (illustrated left the propagator trays stand on it,) which is heated can kick start germination.
Advice on how to germinate from seed
and a
short video
looking at growing veg from seed.Low light levels can make the seedlings spindly and leggy not a good start. Also early in the year the young plants cannot go outside, some for several months which means space is needed to grow the seedlings on under glass to protect them. Everything which you sow now/or buy from the garden centre as a plug plant will have to be grown on under glass until frost is over, if space is short it's best to wait until later in the year.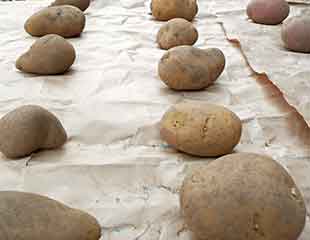 January is a good time to buy seed potatoes and later in the month start Chitting the first earlies. This is particularly the case if you garden in a sheltered or milder area of the country and so can start planting earlier in the year. If your garden is cold, wet or exposed you may wish to move your calendar forward a few weeks.The best way to start chitting potatoes is to place them on paper or in egg boxes in a cool place and leave for the shoots to appear. There is debate about whether Chitting makes any difference in the potato yield.
Tips on growing and which potatoes to grow given the varied nature of the summer it is worth looking at the blight resistant varieties of potato. Blight loves warm wet weather which is common in our summers.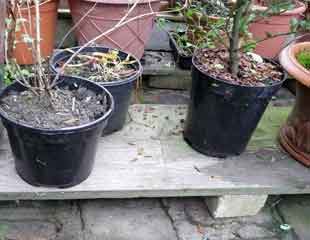 Botrytis Grey Mold
If you are over wintering plants or starting off new seedlings in the greenhouse, mildew and mold can be a problem. To try and prevent Botrytis occurring increase air flow. On mild days ventilate the greenhouse by opening all the doors and vents. A good tip is to raise the pots off the ground to aid air flow and to reduce frost damage as illustrated.
Ahead of any disease pick of any leaves which are brown or dead. In the event of signs of disease on a plant and it is best moved out of the greenhouse to prevent spread.
There is little you can do to prevent it, but to stop it spreading remove the plant from the greenhouse/under glass and don't compost. It shows as soft grey mold and when you touch the plant the mold often showers off and the plant crumbles; move it out way from other plants to reduce infection.