Enjoy the peace and calm of January, there is not a lot to do in the garden. Come February, things begin to get busy as February is a bit pruning month. Just a few jobs for the milder days of January.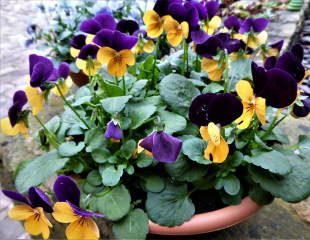 Winter bedding needs dead heading just the same as summer bedding to prolong flowering. If anything, it can be more important with winter bedding which tends to struggle against the weather to flower.
Dead head viola, Pansey cyclamen and they will reward with more flowers.
Many plants have died back, which makes it easier to see the perennial weeds. Cutting back last year's growth reveals just how many weeds are hiding. Winter is a good time to weed, there is less risk of standing on other plants or of damaging fresh shoots.
A mild spell in January is a suitable time to cut back Rosa Rugosa to take out any weak spindly stems.
Many roses will have shed their leaves. If you had black spot during the previous summer, it is worth sweeping up and collecting any fallen rose leaves and disposing of them to reduce the spread of disease/
Before the worst of the weather arrives, protect tender plants, bringing them under cover. Plants such as tender evergreen Agapanthus, Zantedeschia (Calla lily) and Canna need either a good mulch, or moving into a greenhouse. If you live in a mild part of the country, it may be enough to wrap the containers and/or mulch. The problem is our winters are less predictable and the beast from the east struck nationwide in 2018 and such cold winds can be damaging.
If prolonged cold temperatures are forecast, it is worth draining water butts, take a look winter gardening tips to see what can (and did) happen in a long cold spell.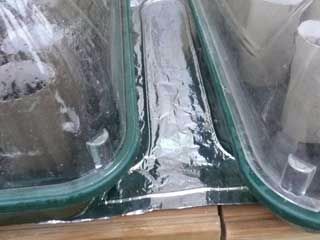 It is possible to sow some early seeds in January. Tempting though this is, there can be problems. Firstly, if you germinate early in the year you need somewhere for the young seedlings to grow on. The young plants cannot go outside, potentially for several months, which means you need plenty of space to grow the seedlings under glass to protect them. Everything you sow now/or buy from the garden centre as a plug plant will have to be grown under glass until frost is over. If space is short, it's best to wait until later in the year.
That said, January is a good time to sow Chilli seeds because they need a long growing season in order to fruit well. Chilli seeds need both heat and light to germinate and here is more information about growing Chillies from seed.
It is cold, and to germinate, seeds need warmth, such as a heated propagator and then transferred under glass. Once established, some seedlings should be OK in the greenhouse (but not all,) unless it is very cold, when cover with a fleece. Sowing early can be a bit hit and miss and only sow hardy or half hardy seeds with protection.
A heated propagator mat is good if you want to get seedlings going early. The average conservatory/greenhouse is too cold to germinate seeds, and this heated aluminium mat (illustrated left the propagator trays stand on it,) is ideal for starting off germination. More Advice top 10 tips on how to germinate from seed and a short video looking at growing veg from seed.
One of the main problems growing seedlings at this time of year is not just the cold, but also low light levels. This can cause seedlings to be spindly and leggy. Often, light is from one side only, and the seedlings become leggy, growing towards the single source of light. Check out what to do about leggy seedlings.