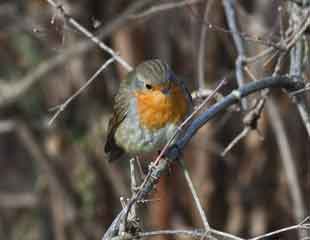 January is a another quiet month in the garden with not so much to do in the garden. On mild days it's good to try a bit of weeding; after the rain and frost time to the ground seems to yield the weeds more easily. It is cold and frosty for the birds as well so its a good time to look after the wildlife . In addition to putting food out, birdbaths can easily freeze over which deprives the birds of a much-needed source of water. Shrubs with berries are really important for the birds, and by this time of year often the birds have all but eaten all the available berries which makes a regular top up of the bird feeders essential to the survival of as many birds as possible through the winter months.
I think gardening in January is best done in doors, planning, seed catalogues and thinking rather than doing.
And on bad weather days, of which there are always plenty in January, its armchair gardening with the seed catalogues planning for the spring and deciding which new veg to try.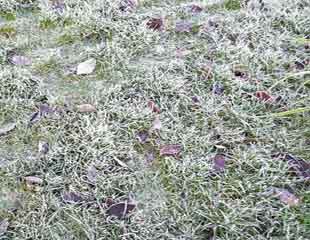 Lawn care in cold weather
Protect lawns because it's true that walking on the frost frozen grass really does cause damage. When frozen, the blades of grass become brittle, and will not yield to pressure, and so will snap and break when trodden on in frosty conditions.
The image left shows where the grass has been walked on and it will not recover easily. This will leave brown marks where the grass is damaged, which looks unsightly in the spring and the damage will make that patch more susceptible to disease.
Given how hard it is to create a decent lawn its worth resisting walking on it during the very cold weather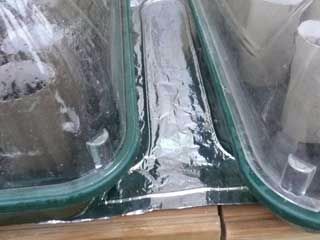 It is possible to start some early sowing, lettuce, tomatoes, peppers and leeks in January but tempting thought it is, early sowings can cause problems. Firstly , just ending up with too many small plants which need space to grow on. If you are really keen and want to start sowing now Hardy Lettuce would be a good starting point which will need to be germinated with some warmth in a heated propagator and then transferred under glass. The seedlings should be OK in the greenhouse unless it is very cold when cover with a fleece. A heated propagator mat is really good if you want to get seedlings going early. In the average conservatory/greenhouse it is too cold to germinate and this aluminium mat (illustrated left the propagator trays stand on it,) which is heated can kick start germination.
Advice on how to germinate from seed and a short video looking at growing veg from seed.Low light levels can make the seedlings spindly and leggy not a good start. Also early in the year the young plants cannot go outside, some for several months which means space is needed to grow the seedlings on under glass to protect them. Everything which you sow now/or buy from the garden centre as a plug plant will have to be grown on under glass until frost is over, if space is short it's best to wait until later in the year.