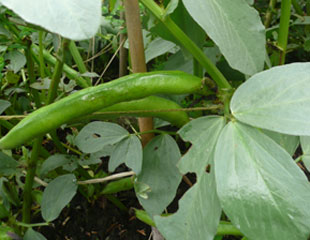 By October the garden is beginning to look autumnal but it's still a busy month harvesting and storing produce, along with cutting back and tidying herbaceous plants.
The weather is capricious in October, one day an Indian summer and the next day frost. Before those frosts bite bring under glass all half hardy plants which have had a summer outing, tender herbs, Chilli plants, Pelargoniums, citrus fruits, olive trees, and any tender exotics and here are Tips on how to overwinter tender plants and save money for next year bedding.
If the Autumn is mild many veg will continue cropping and the image left, taken in October, is of a second crop of Broad beans - how to achieve late cropping Broad beans. If you have late sown lettuce and rocket in the veg plot it may need protection later in the month if frost threatens.
Tomatoes are slowing down in the greenhouse and depending on the weather it maybe time to cut them on the vines to ripen indoors. Check out a foolproof way to ripen tomatoes. The harvest in the veg plot is winding down as far as tender Summer vegetables are concerned. If it stays warm there may be a late crop of beans which will continue cropping at a slow rate until frost. Main crop Carrots can be lifted and stored, and best before the weather turns wet as they can rot if left in the ground too long. After digging up cut of the top foliage and store in cool dark dry place, such as a garage and check regularly to make sure that a bad carrot is not infesting the rest.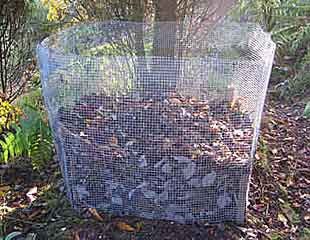 If your garden has trees it is worth saving the leaves to make leaf mould which is an excellent mulch for the garden. It is easy to make a pen; just mould chicken wire into a bin with stake in each corner to give structure. Rake up and pile the leaves in and they will rot down over the gardening year ready to spread on borders as mulch following winter/spring. You can tell when its ready as it will be well rotted, and crumbly. If you have no space you can store in bin bags but it is important to put holes in to allow the air otherwise it will become a slimy mess.
Leaf mould makes a great mulch around rhododendrons, camellias and woodland plants.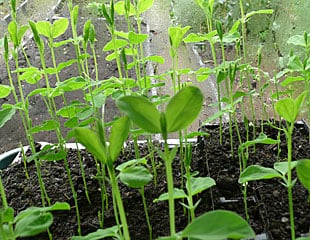 Sweet peas can be germinate in Autumn but they will need to be kept overwinter in a frost free greenhouse/cold frame. Sowing in the Autumn can produce sturdier plants for the spring, which gives a head start when planting out and they will flower earlier. Germinate seeds in warm place into root trainers. Although sweet peas can be grown in cardboard tubes these are not ideal for overwintering, root trainers are better for the Autumn sown sweet peas.
Sow one or two seeds to each pot and when they have germinated and started growing, harden off on milder days outside gradually getting the plants acclimatised to the colder weather and bring in under glass before it gets really cold. Alternatively you can start and grow them on in the greenhouse under glass. The sweet peas will be fine in a greenhouse all winter and will need to be pinched out at the top growing points 2 or 3 times depending on the rate of growth. This will make the plants bush and produce more stems and in the spring, more flowers.
If you look at the image you can see clearly where the growth points have been nipped out. Sweet Peas are a fabulous summer annual, for tips and advise on how to germinate, plant and grow sweet peas visit the sweet pea pages.
Autumn is the traditional time for planting spring bulbs. Daffodils need to go in first in September and October; Tulips later in November. The correct planting depth is very important to ensure flowering, too shallow and they not flower after year one. An easy rule of thumb is plant the bulb 3 times its own depth and if hesitating plant deeper rather than shallow. Snowdrops are the first bulbs to appear and look great in a naturalised setting.
If you are looking for inspiration and ideas for spring bulbs check out the Spring bulbs on Pinterest and for more information and planting advice about planting spring bulbs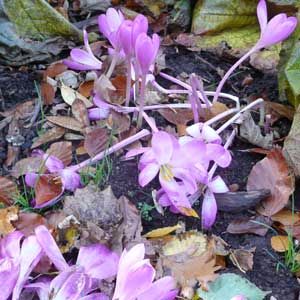 This is Colchicum autumnale, common name Autumn Crocus, a bulb similar to the familiar Spring variety, but it flowers in the Autumn. It is usually offered for sale in the summer for planting. The flowers appear first followed by the leaves and they make a lovely splash of colour. It is best planted in July /Augusts into well drained soil. Colchicum are all purple and mauve flowering but note they are highly poisonous.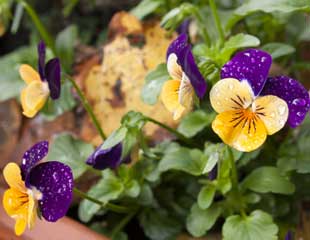 This is a good time to plant winter bedding. The garden centres are full of pansies and violas, and they come home from the garden centre looking lovely but often after a short while they seem to sulk sulk, sometimes for the rest of the winter.
This can be because the bedding plants in the garden centre have had a near ideal upbringing, in a temperature controlled poly tunnel, with just perfect conditions. When we buy the plants they are uprooted and plonked outside in the cold wet chill; result sulk.
A tip is to plant the bedding earlier into the container in which they are going to spend the winter, and then place the container under glass/in the greenhouse or in a sheltered spot to give the plants a bit of time to get established and put their roots down, introducing the plants gradually to the real outside weather as you would summer bedding. That way the pansies and violas might actually flower through the winter.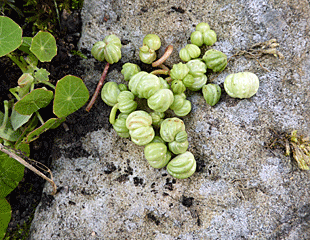 October is ideal for seed collection for use next year.In the image are Nasturtium seeds which are so easy to pick they fall off the plant, store easily and germinate very well providing lots of free summer bedding. Nasturtiums are so easy they are a good place to start if you want to try saving and using seeds from your own plants. Collect the seed heads and dry out they will turn brown and then take out the seed , carefully shaking or scraping out the small seeds and store in packet in dry place - a sealed tin is useful. Label even if the seed looks distinctive because next spring it will just be seed, and mystery seed. Once thoroughly dry a good place to store overwinter is the refrigerator.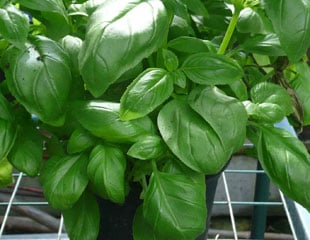 Tender Herbs Basil, Coriander, Parsley, Dill & Mint cannot withstand frost and it is best to pot them up and bring under cover before any autumn chill. Whilst mint and Parsley are frost hardy, the winter damages it and the leaves are not so good.
This is also a good time to replenish dried herbs which lose their pungency after storage. Ideal for drying are oregano, sage, thyme and rosemary, although as hardy perennials they can be picked all year round. One method to dry herbs is to first blanch for just one minute and then strip leaves from stalks, lay on tray in the oven on lowest possible setting with door open to allow any moisture to escape. Leave like this for about 30 mins and when completely cool place in air tight jars.