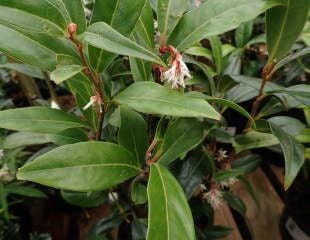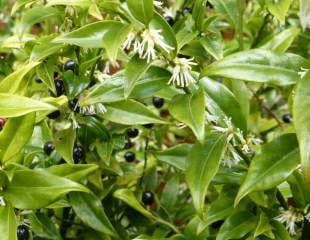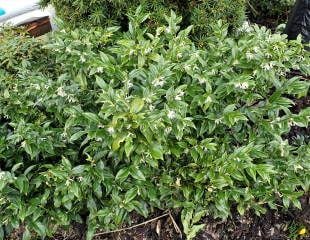 Sarcococca is a lesser known, but very versatile shrub. It is evergreen with glossy leaves, and compact, making it ideal for smaller gardens and spaces. It loves growing in shade or semishade and it has wonderfully fragrant flowers in winter. Although the flowers are small, almost insignificant, you will smell their sweet scent long before you actually come across the Sarcococca.
The different species vary in height between .5m>2m with many around 1m and below. These smaller varieties are ideal for a scented, low growing hedge and the very compact varieties of .5m would make lovely border edging, especially around herb and parterre gardens. It responds well to clipping and, although its common name is sweet box, it does not suffer from box blight, which afflicts Buxus sempervirens. Sarcococca is slow growing. The flowers are long lasting, after which there are berries which the birds will eat.

Sarcococca is tagged green wheelbarrow as it is very easy to grow.