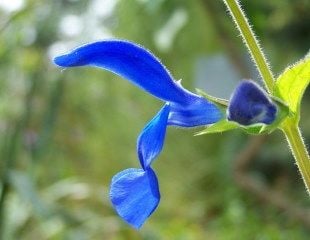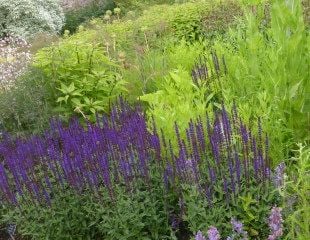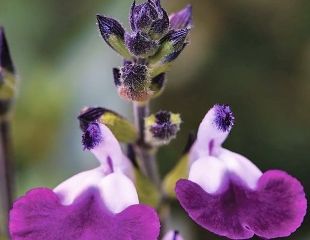 Salvia, common name Sage, is a wide species (900 in the genus) which includes annuals, biennials, herbaceous, evergreen perennials and shrubs. Those usually found growing in our gardens are the herbaceous perennials and evergreen varieties. Most Salvia is best grown in a sunny position, on light, sandy, well-drained soil. When Salvia is grown in soil which is too rich, or in dappled shade, they have a tendency to become leggy and not to flower well.
Salvia varies in their hardiness, although all will tolerate degrees of cold. Some Salvia are H3 hardy, which is only Hardy in some mild parts of the UK. Many of the shrubby Salvias originate from Mexico and will not be thrive in cold areas, on wet boggy soil, and they are not an ideal choice for clay soil. Salvia will tolerate cold weather better growing in well-drained soil or in a container which can be moved to shelter over the winter. The evergreen varieties are best left with the foliage in place over winter to provide some winter protection. The more tender varieties will benefit from a winter mulch.
Salvia patens 'Cambridge Blue' illustrated above left is the most fantastic strong blue but as H3 it will need a sheltered planting spot.
During the flowering period, dead heading the flowers or removing the flower spikes will prolong flowering. Cut back Salvia in the spring when the fresh shoots appear.
Plant Salvia in an area of the garden which is dry and with a good amount of sunshine. The leaves and plants are often aromatic, making them attractive to bees. Illustrated above are some of the most popular and widely available varieties available and typical garden types of Salvia.
Salvias also look great in a mixed border and are good companion plants to many of our popular garden plants.

In most parts of the UK, Salvia is hardy and easy to grow. Select a variety with a H rating suitable for your garden and plant in a sunny spot and in well-drained soil.