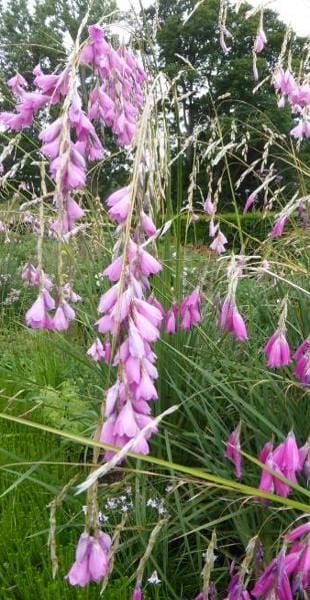 Dierama, also known as Angel's Fishing Rod, is an unusual delicate perennial which has arching plumes of bell-shaped flowers.
Angel's Fishing Rod is grown from corms which are planted in the spring about 5-7cms deep, in good, humus rich, well-drained soil and it needs shelter. You can also buy pot grown plants, which should be replanted in a border at soil level. Angel's Fishing Rods are not ideal to grow in containers and should be replanted in the ground. When initially planted whether as a small plant or if grown from corms, water well initially to ensure the corms are well hydrated and the plant does not dry out. Varieties vary in frost hardiness, from H3, hardy in only the mildest coastal areas of UK to H4 varieties which are hardy in most parts of the UK but Dierama will grow best in a sheltered spot and in cold areas, with winter protection.
The most commonly seen and sold variety is Dierama pulcherrimum, which is the pale pink variety illustrated here but there is also a very attractive dark red variety called D. pulcherrimum 'Blackbird'. In the right conditions Dierama pulcherrium will grow up to 1-1.5m and this variety is H4 it is hardy to -10, with some protection. It likes full sun, and although fussy in terms of needing a sheltered spot it will grow in any sort of soil, clay, sandy acid or alkaline. Other H4 varieties are D. dracomontanum, D. 'Miranda' and D. 'Titania' It is important that the ground is well drained, Angel's fishing rod will not thrive in wet or waterlogged soil.
Initially Angel's Fishing Rod is often slow growing, and can take 1-2 years to get established and flower well, but once established, it is a green wheelbarrow plant needing very little time or attention.
Angel's fishing rod looks very much like a grass, and for this reason looks good growing with grasses as in the image below where it is combined with Stipa tenuissima, which is a soft fluffy grassy. It also teams up well with Agapanthus as shown above right and looks fabulous along side a pond or alongside water dangling, or angling, over the side. When growing Dieram near a pond or water it is important to ensure the ground is well drained. There is also a white variety, D. argyreum which is hardy to -10.
Dierama flowers mid summer onward from around July to end of September.
The only maintenance required is to remove old and tired foliage in early spring.
Dierama can be propagated by division. Lift an established clump in the spring and cut into large sections and replant. The disturbance may interrupt flowering. Given that the hardest thing about growing Angel's Fishing Rod is getting them established and flowering, I would be inclined not to propagate and divide them, unless absolutely necessary.
If Dierama is not the plant you are looking for check out other Summer flowering plants, Summer planting combinations and ornamental grasses for more ideas.
These images of Dierama flowering with grasses and Agapanthus were taken at Bodnant garden in Wales which is a marvellous garden to visit with many different areas to see and enjoy, highly recommended for a day out.
Dierama has a real affinity with grasses and here is shown with Stipa tenuissma which has soft feathery plumes, and is known as Mexican feather grass.