There are some lovely shrubs with autumn and winter interest. Some shrubs have amazing autumn colour, others have flowers, berries and some shrubs have scent. Illustrated on this page are the more popular varieties of garden shrubs which provide interest in either autumn or winter. An additional advantage of growing shrubs which produce berries is to provide food for birds, especially Blackbirds and Thrushes, which are avid berry takers.
Many of the popular shrubs have attractive berries which are colourful and good for garden wildlife, such as Pyracanthus, common name firethorn, which is apt given its blazing red berries.
Many Acers have superb autumn colour and there are now so many varieties it's best to see them on display in one of the garden centre in autumn when you can check out its autumn colours. Generally, the green-leaved Acers produce the best autumn colours.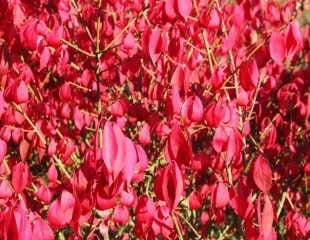 This is an Euonymus alatus 'Compactus' also known as winged spindle / fire bush a fantastic Euonymus for autumn colour, striking bright red. This is a compact variety which will grow to around 1.5m making it ideal for the garden.Euronymous are tough, very hardy shrubs and will tolerate most growing conditions and soils.
Given the strong autumn coloured foliage although E. alatus 'Compactus' will grow in partial shade its bright autumn colour looks best in sun.
Available from Crocus, click here for buying information.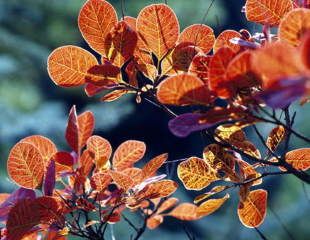 Cotinus coggygria in its different varieties makes lovely autumn colour. Illustrated is Cotinus 'Flame' which is a green-leaved variety which becomes a bold orange colour in the autumn and is reputed to be the best Cotinus for autumn colour. Also attractive is C. 'Royal Purple' the colour of the purple leaves intensify in autumn.
Cotinus is easy to grow hardy shrub tolerant of most conditions and is a good choice for autumn colour.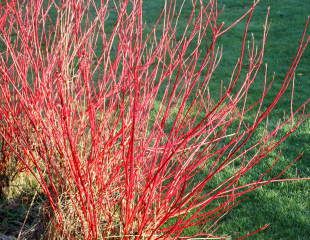 Cornus alba Siberica displays red stems in winter which look very attractive. It is a deciduous shrub with variegated leaves. To display the red stems at their best ideally Cornus should be planted where the low winter sun will shine on it and back light it. There is also a variety with yellow stems called Cornus sericea 'Flaviramea' It is a deciduous shrub and when the leaves fall off, they leave behind the stems, red, orange or yellow depending on the variety. It is a pretty shrub with variegated leaves which has the added bonus of great winter colour.
Cornus are easy to grow but need annual pruning to produce the best winter colour.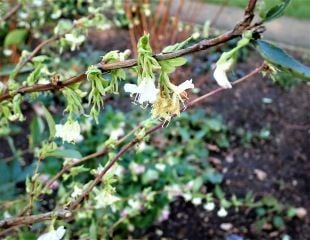 This doesn't look much of a shrub, but without doubt it has the most lovely perfume of all. It is Lonicera fragrantissim, Winter flowering Honeysuckle and it really has the sweetest of perfume.
It flowers mid December to March - tips on how to grow and prune Winter flowering Honeysuckle.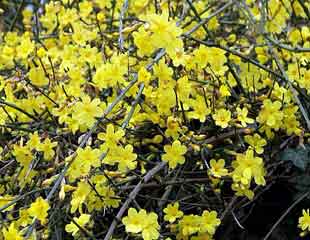 Winter flowering Jasmine, jasminum nudiflora has bright yellow flowers and although a Jasmine it is not scented, but it is fully hardy. It makes up for the lack of scent with its luminous bright yellow flowers which appear ahead of the leaves.
Over time, it can get into a bit of tangle which is easily remedied by being pruned back into a tidy shape. How to grow and prune Winter Jasmine.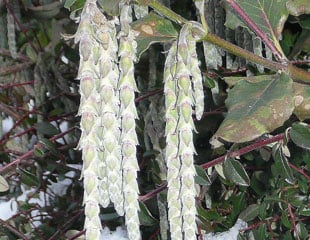 Garrya elliptica is also known as the silk tassel bush and it's easy to see why. From December onwards, depending on the variety, it is festooned with long tassels which look striking.
Not all varieties are fully hardy and it does need a sheltered spot - growing advice about Garrya elliptica.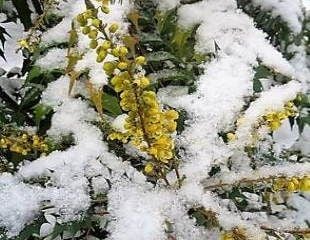 Illustrated above in the centre and left is Mahonia, an easy to grow shrub flowering early in the year during the winter, predominantly in January. A few varieties of Mahonia are scented, such as M. Charity, and M. 'Lionel Fortescue. They are a tall shrub, with sharp spines often planted on a boundary to deter intruders and they can make a colourful hedge. Tips and ideas on growing Mahonia.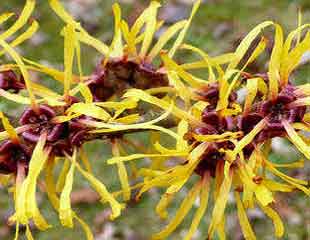 Another shrub grown for winter scent is Hamamelis, common name Witch Hazel which is more of a small tree than a shrub getting quite tall. It has interesting spidery flowers which form ahead of the leaves (like forsythia). The flowers are either yellow illustrated left or red/orange illustrated above.
Hamamelis are slow growing and look good in a woodland setting or as solitary tree as they tend to get a bit lost if planted in a mixed setting.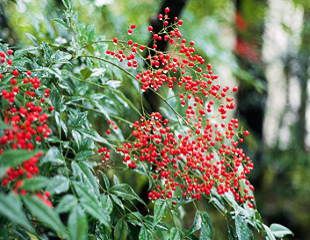 A fantastic evergreen shrub with all year round interest is Nandina domestica, common name the Heavenly Bamboo, and it is a heavenly shrub.
It has delicate serrated leaves on arching branches which have a red flush when they first open. In the autumn the foliage takes on a strong red colour, in a good (hot) summer and in warmer sheltered gardens it has lovely white flowers in summer followed by autumn berries.
A superb all round shrub which is surprisingly easy to grow.