What Is Mulching A Border
Posted on
What is mulching a border ?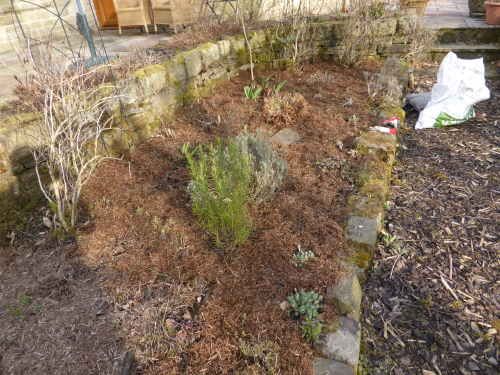 This time of year is a good time to clear up in the borders. Most of my borders are planted with herbaceous perennials and so look a complete mess by now. Various plants collapsed and frosted.
On milder days at this time of year I am working to clear the weeds and mulch.
Once the finished plants are cut back, the weeds are there to be seen in all their resplendent glory as a result there is more weeding to be done now than in the spring.
Late Autumn and early Winter is a good time to mulch the borders. The helps to improve the soil structure, protects any slightly tender plants and makes the borders look much tidier.
In the image above all the weeds have been removed and then a mulch applied. I like to use Strulch, it is light and so easy to handle, supresses the weeds and keeps in the moisture and will rot down to improve the soil structure. Apply a mulch layer around 3-4 cms and do not over cover the center crown of plants, especially roses. The image left may not look up to RHS standard but before the weeding and mulching it really was a mess. The mulch makes the border look neater.
You can also use compost, or make a leaf mulch, which is free to anyone who has too many leaves in the garden. Although leaf mulch is not a nutritional mulch, it is good for the soil structure and the borders will benefit.

It is hard to keep a garden tidy and surprising how much neater it looks when covered in a tidy layer of mulch, and it will keep the weeds at bay.
Leaf mould is easy to make; tips on making leaf mould and a bin.