Daffodils Flowering in January?
Posted on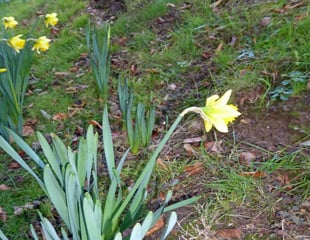 This image was taken on 3rd January 2015, and it is genuine. The Daffodil was flowering in a sheltered border along side the Le Strange Arms Hotel, Hunstanton in January.
Does this mean nature is upside down? Our weather is much less predictable than it was and the seasons less defined.
For once it is not down to climate change, but the variety of daffodil. There are some very early flowering daffodils. I didn't plant this Daffodil, so I cannot be 100% certain, but I am fairly sure it is one of the early flowering varieties of Daffodil, the most common of which is Narcissus 'Rijnveld's Early Sensation' which, in a sheltered spot, will flower from late December and January.
This variety has the RHS garden merit award

and is reliably hardy, although it is important to plant the bulbs deeply (at least 3x, preferably 4x the bulb depth) to keep it cool during the summer months.
The fact this variety flowers so early is a reminder of the need when creating spring flowering displays with bulbs to check their flowering times. Narcissus 'Rijnveld's Early Sensation' is going to look good with early flowering crocus and dwarf Iris. Spring bulbs have a wide range of flowering times; Tulips are spring-flowering but that is from March to May. Tips and advice on which bulbs to grow for a great display in the spring, information about growing Tulips and advice on the correct planting depths for bulbs.
It's too late to plant spring bulbs for this year. If you would like to receive a monthly newsletter with gardening tips, information and seasonal advice (which will remind you when to plant spring bulbs next year) please click here to subscribe.